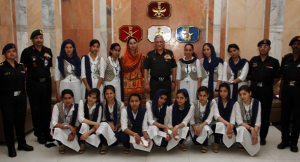 New Delhi. 09 May 2017. As part of the Indian Army's ongoing outreach programme to foster the spirit of National Integration across the entire swathe of the country, a tour of 16 Girls from the remote town of Gingle, Uri Tehsil in Srinagar District of Jammu & Kashmir is being organised form 02 to 11 May 17.
National Integration Tours are educational and motivational tours for school children, youth and local populace of J&K and North Eastern States, with an aim to provide an insight into the rich heritage of the country, various development and industry initiatives that are afoot exposing them to varied career options while providing an opportunity to interact with renowned personalities.
During the course of the tour, the children have visited various cultural and historical places in Bengaluru and Delhi. The participants interacted with General Bipin Rawat on 09 May 2017, who shared his experiences of these areas with the students and motivated them to work hard and contribute actively in the Nation Building process.