Lt Gen Hanut Singh Memorial Lecture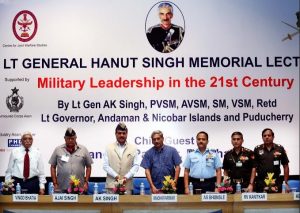 New Delhi. 09 May , 2016. Lt Gen Hanut Singh Memorial Lecture was held to commemorate the great general, an astute strategist and a brave soldier. Lt Gen Hanut Singh popularly known as 'the Doyen of Mechanised Warfare in India' and 'Soldier Saint' was an archetypal Indian Warrior in the classical, heroic mould of Indian history.
He is better known for his heroics in epic tank battle at Basantar during 1971 Indo Pak War during which almost 50 Pakistani tanks were destroyed as against loss of only 13 tanks of Poona Horse of Indian Army. The Pakistanis themselves called Poona Horse 'Fakr e Hind-the Pride of India' ; a compliment from the vanquished enemy.
Raksha Mantri during his inaugural address stated that military leaders of the stature of Lt Gen Hanut Singh are remembered for the leadership that they provide during important battles. He was a charismatic and clear thinking General who exhibited sound leadership qualities and out of box thinking which should be emulated by young soldiers and future generation of leaders.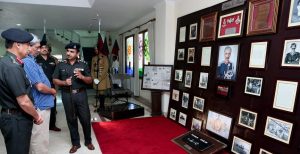 Lt Gen AK Singh (Retd), Lt Governor, Andaman & Nicobar Islands delivered the memorial lecture on "Leadership in the Future Networked Battlefield". He highlighted the challenges for higher military leadership in 21st century and suggested ways to overcome them, suggesting a roadmap for future. Lt Gen Ajay Singh (Retd), former Governor of Assam also delivered a lecture on "General Hanut Singh – the Doyen of Mechanised Warfare in India'. He highlighted his leadership attributes through battle accounts in Battle of Basantar during 1971 Operations.
The General passed away last year on 11 Apr 2015 and as a tribute this memorial lecture was held for the first time. It has been organized by Centre for Joint Warfare Studies. Honourable Raksha Mantri Shri Manohar Parrikar was the Chief Guest on the occasion.
A short film on life & times of Lt Gen Hanut Singh was also screened.