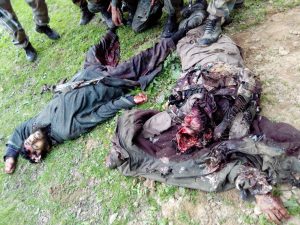 New Delhi. 14 May 2017. It was just the speed the Indian Army has always shown. 1430 input received , 1530 contact established and  1630 operation is  terminated. Highly reliable sources suggest that the one terrorist who had escaped the SF from Panzgam has been neutralised today. This was verified by their call signs which was part of the earlier neutralised terrorists and also the grazing gunshot wound seen on the left shoulder blade on one of the two killed in today's operation.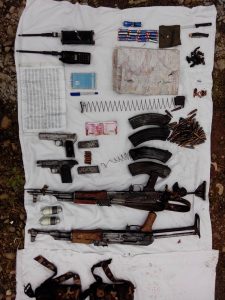 Recovered in Operation WARIPURA (21 RR/7 Sect / CIF K ) were AK – 2,04,77, Pistol – 02, 02 ,07, HHRS – 02 ( incl one mod for YSMS ),  Matrix Sheet – 01 ( C3)LeT ( Matrix sheets rec from Panzgam were C4 and C6- Hence there is a co-relation and they are part of the same gp ), Map -0ne ,  Down Feather Jacket -one (OG Colour ) and miscellaneous administrative store.
Encounter started at Handwara and two militants were killed by Handwara Police and 21 RR. At approx 1530 hrs, cordon established and contact began at 1540 hrs. Two LeT terrorists have been killed though the identity is  yet to be confirmed.  Bodies were taken in police vehicle. There were no casualties on the security forces part of the operation.