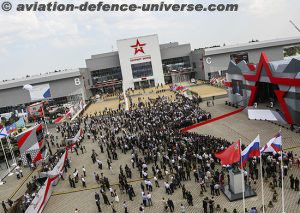 Moscow. 11 August 2022. The scientific-business programme of the International Military-Technical Forum ARMY 2022 will include over 320 events. It was announced by chief of the Main Directorate of Innovative Development of Russian Defence Ministry Major General Aleksandr Osadchuk at a briefing for the military-diplomatic corps of foreign countries.
According to him, the emblematic events of the scientific-business programme will include a plenary session with the participation of senior government officials, leading Russian defence industry enterprises and heads of foreign delegations, a congress on Strategic Leadership and Artificial Intelligence Technologies, a congress dedicated to the diversification of the Russian defence industry; an international anti-fascist congress aimed at countering falsified history and the III International Fire and Rescue Congress organised by the Russian Emergency Ministry.
He added that the Russian Defence Ministry plans to sign state contracts with industrial enterprises and that Rosoboronexport (part of Rostec) would conclude contracts to supply weapons and military equipment to our foreign partners during the forum.