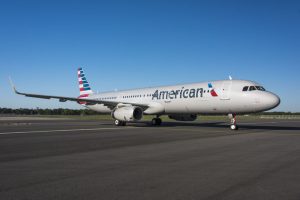 Mobile, Alabama. 18 MAY 2016. The first delivery of an A321 aircraft from the Airbus U.S. Manufacturing Facility to American Airlines took place today, May 17, in Mobile, Alabama. On hand for the occasion were executives from Airbus and American Airlines and representatives of the more than 350 employees at the facility.
Bob Lekites, Executive Vice President-Customers, Airbus Americas said, "The relationship between American Airlines and Airbus is a long and successful collaboration to provide the most modern, fuel-efficient aircraft for both of our customers. American Airlines already operates the world's largest fleet of Airbus aircraft and the largest A321 fleet. With this delivery, we are adding a very special aircraft to those already sporting the American livery – an Airbus aircraft built here in the USA. This is the first of many American Airlines airplanes to be delivered from Mobile, and we are proud it will join a growing, thriving fleet."
David Seymour, Senior Vice President-Integrated Operations for American Airlines said, "Having Airbus produce its world-class aircraft in the United States has simplified our delivery process. It's an honor to take delivery of this A321 today, and we thank everyone working in this facility for producing a high-quality aircraft for us."
Airbus announced its commitment to build a single-aisle assembly line in Mobile, Alabama in 2012, and less than one year later, broke ground on the $600 million facility. The ceremonial inauguration of the plant took place in September 2015. The aircraft delivered today, an American Airlines A321, successfully had its first flight on April 19, 2016.
Airbus anticipates delivering four aircraft per month from the Mobile plant by the end of 2017. The initial deliveries will all be A320 Family aircraft with the Current Engine Option (CEO), but will begin transitioning to New Engine Option (NEO) derivatives in late 2017.
In addition to hundreds of new Airbus jobs the project has brought to the local community, the Mobile area has seen many Airbus suppliers open new facilities in the region, providing even more employment and a parallel boost to the local economy. Airbus is proud to boast that 87 percent of its new employees are from the Gulf Coast region, with nearly one third being U.S. military veterans.
Demonstrating the adage "The Sun Never Sets on Airbus Manufacturing" – Airbus aircraft are now produced around the clock, 24 hours a day, at facilities in: Mobile, Alabama; Hamburg, Germany; Toulouse, France; and Tianjin, China.