By Suresh Somu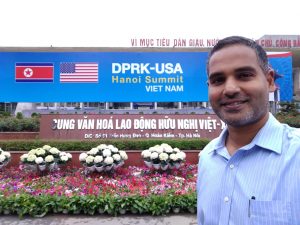 Hanoi. 27 February 2019. It is a bright sunny morning here at the Vietnamese capital and the city is full of expectancy waiting for the biggest event of all times-The Trump-Kim Summit- to begin. The city looks like a fortress with tanks, armoured personnel carriers, anti-rioting vehicles and men in camouflages all over.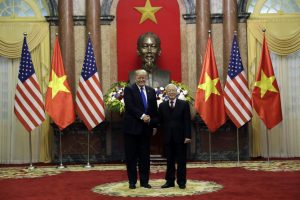 The American President Donald Trump left the JW Marriott in Hanoi for Vietnam's Presidential Palace, where he met with Vietnamese President Nguyen Phu Trong . It was much more than a shaking of hands I am sure. Bilateral ties between the two nations along with the warmth has shot up as US_China relations have taken a downward stride.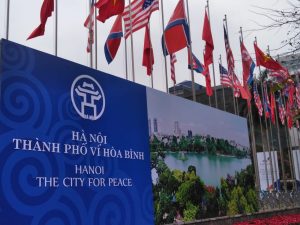 Trump was high on his expectation yesterday and tweeted before leaving for Vietnam, "With complete Denuclearization, North Korea will rapidly become an Economic Powerhouse. Without it, just more of the same. Chairman Kim will make a wise decision! "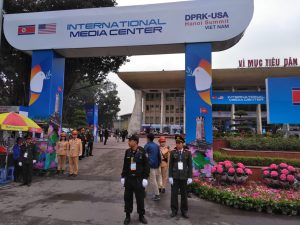 And today before the meeting with his Vietnamese counterpart he tweeted, " Vietnam is thriving like few places on earth. North Korea would be the same, and very quickly, if it would denuclearize. The potential is AWESOME, a great opportunity, like almost none other in history, for my friend Kim Jong Un. We will know fairly soon – Very Interesting!"
After his meeting with the Vietnamese president, Trump has headed to a meeting with Vietnamese Prime Minister Nguyen Xuan Phuc post which he will have lunch with the Vietnamese top leadership.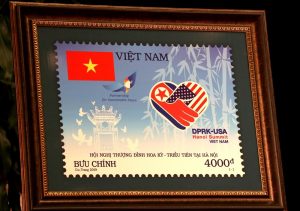 Vietnam Government has issued a special stamp set to welcome the DPRK–USA Hanoi Summit Vietnam. It was jointly released by the Ministry of Information and Communications, and the Ministry of Foreign Affairs.The stamp set includes one stamp of which the face value is 4,000 VND with the size of 43mm x 32 mm and one blog which is 222 mm x 114 mm. The stamp is used in the postal network from February 26, 2019 to December 31, 2020.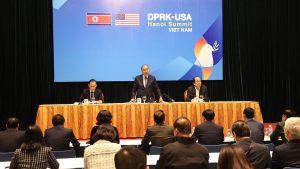 Prime Minister Nguyen Xuan Phuc on February 24 had visited the International Media Centre (IMC) in Hanoi to inspect preparations for the upcoming DPRK-USA Hanoi Summit Vietnam. The international media centre, located at the Cultural Friendship Palace at No. 91 Tran Hung Dao street, officially started operations on February 23. It is capable of hosting more than 3,000 reporters at the same time. It is equipped with full modern facilities serving the reporters' operations. Earlier the same day, PM Phuc also checked the security control centre for the DPRK-USA Hanoi Summit Vietnam.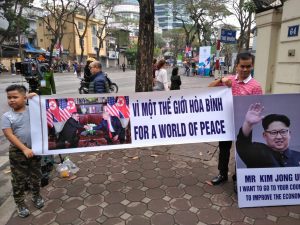 Meanwhile the common Vietnamese is excited about the summit and is on the roads with messages of friendship and hope for eventual peace in the region.
ADU will keep getting you the updates live from the vibrant city and expectant media centre. Adieu till next!