Unique delectable add-ons to the extensive Café Akasa menu Bookings are now open for in-flight food options for Valentine's Day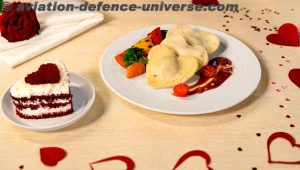 National, 2 February 2023: Akasa Air, India's youngest airline, has introduced a Valentine's Day special meal as part of its inflight meal service, Café Akasa. The exclusive menu features heart-shaped red sauce ravioli (pasta) and exotic grilled vegetables, accompanied with a slice of red velvet cake and a choice of (hot/cold) beverage. The latest addition is in-line with the brand's efforts towards offering an enjoyable and distinguished travel experience to all its customers.
The Valentine's Day special meal is available for pre-booking and will be served on-board all Akasa Air flights from today 01 February until 28 February 2023. Specially curated by culinary experts, the gourmet meal has been added to the menu, enabling customers to indulge and celebrate love at 35,000 feet above the ground.
Early on in its journey, the airline had introduced a variety of curated fusion meals, inspired by regional delicacies associated with celebrations during popular Indian festivals like Ganesh Chaturthi, Dusshera, Diwali and Makar Sankranti. Akasa Air will continue to introduce special festive menus for upcoming occasions throughout the year. The airline also offers pre-selection of cakes as part of its regular menu for customers who may wish to celebrate special occasions in the skies.