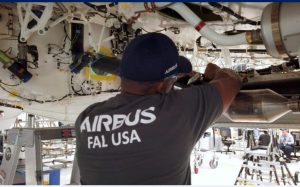 Mobile, Alabama. 14 August 2019. Airbus has started production of the A220 aircraft in the US factory, the introductory team of Airbus after completing their on-the-job training in Mirabel, Quebec, Canada, initiated production with the exertion at Airbus' Alabama-based factory in US. A220 primary and final assembly lines are located in Quebec, Canada. The company declared the idea for the addition of A220 production in October 2017. The building of main A220 flowline hanger and other support buildings started at the Mobile aeroplex at Brookley early this year, production of some initial aircraft is being taken place within some current A320 Family buildings and newly -built support hangers. The first US built A220 scheduled for Delta Air Lines and delivery would be done in the third quarter of 2020. By 2025-26, the facility will produce between 40 and 50 A220 aircraft per year.
C. Jeffrey Knittel, Airbus Americas Chairman & CEO, asserted, "The expansion of our commercial aircraft production in Mobile to a second product line – with 400 additional jobs to support it – further solidifies Airbus' standing as a truly global aircraft manufacturer, and confirms without a doubt that Airbus is an important part of America's manufacturing landscape. With Mobile, and our production network in Asia, Canada and Europe, we have strategically created a worldwide industrial base to better serve our customers."
The A220 is the only aircraft purpose-built for the 100-150 seat market and company has an order book of 551 aircraft as of June 2019, estimated to represent 7,000 aircraft over the next 20 years. The aircraft is powered by Pratt & Whitney's latest-generation PW1500G geared turbofan engines.
Airbus and US have strong and well established relations and Airbus also is a great ally of US aerospace companies. US companies has supplied components and materials worth $48 billion to Airbus in last three years, which supports more than 275,000 American jobs. Airbus has different facilities in the US which includes engineering centers in Kansas and Alabama, training facilities in Florida and Colorado, materials support and headquarters in Virginia, an innovative think tank (A3) in California, a drone data analysis business (Airbus Aerial) in Atlanta, Georgia, helicopter manufacturing and assembly facilities in Texas and Mississippi, and a satellite manufacturing facility (OneWeb) in Florida.