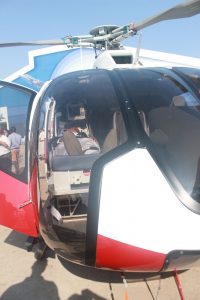 Bengaluru.

15 February 2017

.  Airbus has brought India's first dedicated heli-ambulance, an Airbus H130, for display at Aero India 2017. The helicopter is fully kitted out with specialised emergency medical care equipment and is conducting a live drill of its life saving service at the entrance of Hall B.
The Helicopter Emergency Medical Services (HEMS), as it is called, was launched in January 2017 by Bengaluru based Aviators Air Rescue with a fleet of three H130 helicopters. This pioneering service is the result of a tripartite agreement between Aviators Air Rescue, Air Medical Group Holdings Inc., a leading air medical provider in the United States and Airbus Helicopters. All three H130 are being put to use for medical missions only and are equipped with specialised equipment for emergency transportation of patients, organs, neo-natal and other time critical medical missions.
The rollout of the service follows the last year's release of regulatory guidelines by the Indian Directorate General of Civil Aviation (DGCA) for the operation of helicopter EMS in India. The new guidelines allow the use of single-engine, dual-pilot helicopters.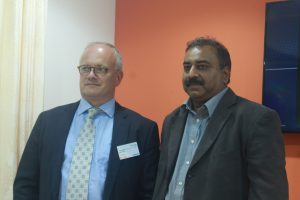 In the first phase the services will cover the entire southern region. AMGH and Aviators have options to acquire additional helicopters for expanding the service to other cities in India.
"It is an honor that Aviators and world-renowned Air Medical Group Holdings have put their faith in our helicopter to rescue Indian lives threatened by emergency medical situations. We will assist Aviators with our global emergency medical helicopter expertise and our India-based support and services team to ensure that these H130s are always ready to respond to a call," said Xavier Hay, President, Helicopters, Airbus India.
"With the support of Airbus Helicopters and Air Medical Group Holdings, we have set on our mission to provide India with top-notch air medical service that is affordable and accessible for everyone. The service is on par with the established HEMS operations in the US and Europe," 
said Capt. Arun Sharma, Managing Director of Aviators Air Rescue.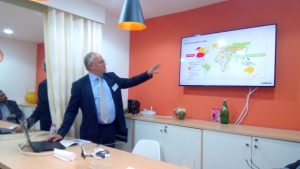 The H130 is a global reference among single engine helicopters for air ambulance missions. In addition to the pilot and the co-pilot or a technical crew, both of whom can be seated in the cockpit unlike any other helicopter of its class, the H130 can accommodate a stretcher and seat three more attendants or para-medical staff in the cabin. The low internal sound and vibration level and the flat cabin floor offer a suitable environment to install both sensitive and bulky medical equipment. Airbus Helicopters' signature Fenestron® shrouded tail rotor design allows the H130 to land in congested areas with protection against impact collision and also makes it safer for medical personnel working in the vicinity of the rotor.
The H130 comes from the proven Ecureuil family of Airbus helicopters. More than 6,000 Ecureuil helicopters have been delivered till date, clocking more than 30 million hours of flight time in various missions including HEMS, passenger transport, law enforcement, etc.
Aviators will offer EMS to state governments, rescue groups, hospitals, clinics, public and private companies, and also to individuals through subscriptions.