Takes over as Air Officer-in-charge Administration (AOA)
New Delhi. 05 August 2017. Air Marshal Hemant Narayan Bhagwat AVSM VM has taken over as Air Officer-in-Charge Administration of Indian Air Force at Air Headquarters (VB), New Delhi on 01 Aug 2017.
Air Marshal HN Bhagwat AVSM VM was commissioned in Administrative branch of the IAF in Jun 1981.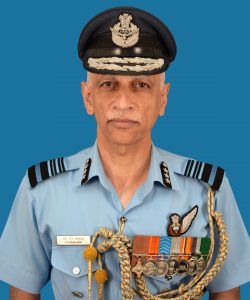 After serving for seven years as an Air Traffic control Officer in three different operational bases of the IAF, the Air Officer qualified as Parachute Jump Instructor and served in instructional capacity for fifteen years. During his paratrooping career, the officer has undertaken over 2400 live parachute jumps in combat as well as sport profile from twenty different types of aircraft. He has also served as Chief Instructor of Paratroopers' Training School, Agra for five years and was leader of prestigious IAF Skydiving Team, Akashganga for several years. Besides para jumps in all parts of our country, the officer has also participated in several international para exercises including in USA, South Africa, Sri Lanka and Seychelles. The officer is senior most active parachute jump instructor of the IAF.
The Air Officer is a graduate of Defence Services Staff College, Wellington and has undergone Higher Air Command Course at College of Air Warfare, Hyderabad and Senior Defence Management Course at College of Defence Management, Secunderabad. The officer has completed his M Sc in Strategic Studies from Madras University & M Phil from Osmania University. The Air Officer has held several prestigious appointments including that of a Chief Admin Officer of a premier fighter base, Commandant of Garud Regimental Training Centre, as Chief Personnel Staff Officer at HQ South Western Air Command, Senior Officer in charge Administration at HQ Western Air Command and Asst Chief of the Air Staff (Org & Cer) at Air HQ. Prior to assuming the appointment of AOA, Air Mshl HN Bhagwat was Director General (Works & Ceremonials) at Air HQ.
The Air Officer was commended by Chief of Air Staff in 1999 and was awarded Vayu Sena Medal by the President of India in 2005 for his contributions to paratrooping field. He has been awarded the Ati Vishist Seva Medal by President of India for distinguished service of a very high order.