Vande Bharat flight skidded off on landing
18 fatal casualties including the Pilots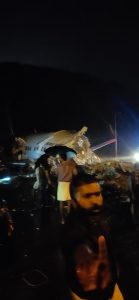 New Delhi. 07 August 2020. Air India Express Dubai- Calicut flight crashed after landing at Calicut Airport and fell in a 30 feet gorge, off the table top runway. It was a second attempt at landing and the first one was unsuccessful. The pilot DV Sathe and the co-pilot Akhilesh Kumar are dead . Current reports confirm 18 casualties.
There were 189 passengers aboard including ten children, two pilots and four cabin crew members. The accident happened at 7.10 PM IST when the Boeing 737 skid probably due to heavy rains. 24 ambulances rushed to the spot. 148 passengers have been shifted to the hospital. All passengers have been extricated.
Rajeev Jain Addl DG Media, Ministry of Civil Aviation stated that," Air India Express flight IX 1344 operated by B737 aircraft from Dubai to Calicut overshot runway at Kozhikode at 1941 hrs tonight. No fire reported at the time of landing. There are 174 passengers, 10 Infants , 2 Pilots and 4 cabin Crew on board the aircraft. As per the initial reports rescue operations are on and passengers are being taken to hospital for medical care. We will soon share the update in this regard."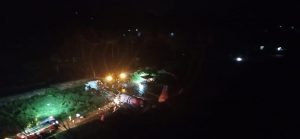 DGCA Arun Kumar said that a detailed investigation will be done and two bodies have been retrieved.
The four crew members are Shilpa Dashrath Katare, Akshay Pal Singh, Lalit Kumar and Abhik Biswas.
The DG of CISF who were the first respondents has confirmed that the plane hit the compound boundary wall and fell into the valley 35 metres below.