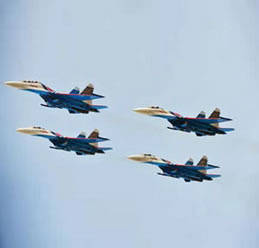 Langkawi, 17 March 2017. All roads lead to Langkawi and eyes are on its skies. It is LIMA 2017 in the offing. Langkawi International Maritime and Aerospace Exhibition (LIMA) is a maritime and aerospace exhibition that takes place once every two years in Langkawi, Malaysia. The next event will take place in from 21st march onwards..
The event  is focused mainly on the defence industry, but also supports civilian industries. In 2013, LIMA recorded an overall growth of 10%, with 433 exhibitors from 31 countries, 333 defence delegations from 38 countries, 632 media personnel from 127 agencies, 68 ships and 78 aircraft attending the show. The 5 day event also saw 38,421 trade visitors from both defense and commercial sectors from all around the world,[1] as well as 135,691 public visitors.
The exhibitors involved in the event exhibit their products inside the purpose built Mahsuri International Exhibition Centre (MIEC), adjacent to the terminal at Langkawi International Airport. The maritime exhibitions take place at Resort World Langkawi while the aerospace exhibitions take place at the Langkawi International Airport. The venues are all in close proximity to each other. The event is supported by the Malaysian government and industry associations.
Confirmed space bookings has seen a 40% percent increase compared to the previous edition in 2015. Russia is currently once again the largest international country exhibitor followed by the United States. Germany and the United Kingdom. Out of these. 9 new countries of first-time exhibitors bringing innovative. new products to Asian markets are from Austria. Brazil, Estonia. Hong Kong, The Netherlands, Philippines, Poland. Thailand and Ukraine.
LIMA attracts most influential procurement executives from defence and civil sectors. including airlines, shipping. MRO. Oil & Gas. Airport Services. Port Authorities. Port Operators. Port Auxiliary Services & Cruise Liners. All participants at LIMA stand to gain from the comprehensive civil/commercial and defence delegates programme implemented at the show. Limited options remain available but companies wishing to ensure their participation in the event are advised to act quickly.