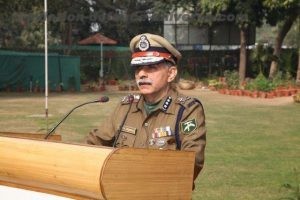 New Delhi, 16 February, 2018:- 12th batch of ITBP commando contingent comprising 140 members including 04 women personnel today met Shri R.K. Pachnanda, Director General at Force HQ. The contingent is ready to depart to Bunia, Democratic Republic of Congo on Formed Police Unit duties for the United Nations Peace Keeping Mission.
DG addressed the contingent and conveyed best wishes to the members. The contingent comprises of experienced personnel drawn from different units of the Force. All personnel have been specially trained for this UN deployment at UNCIVPOL School at ITBP campus Tigri, New Delhi. The Contingent is being commanded by Sh. Pawan Malik, Commandant.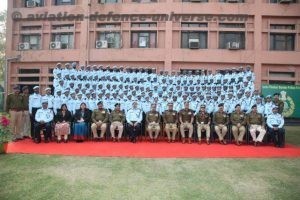 As per UN mandate, the following task has assigned to ITBP Contingent at D.R. Congo:– (i) Patrolling of mission compound to ensure security of UN staff and assets and to generate sense of security among locals, (ii) Crowd Control Management duty, (iii) Stand by Quick Reaction Team, (iv) Joint patrolling with local police, (v) Security of designated Compound, and (vi) Any other operational duty assigned by MONUC HQrs.
Over the years, ITBP contingents have been doing commendable job in Bunia, D.R. Congo. Besides this, ITBP is also providing free medical advice and medicines to local populace.
After induction of 12th batch, the 11th batch will leave for India. It served in UN Mission at D.R. Congo for over one year.