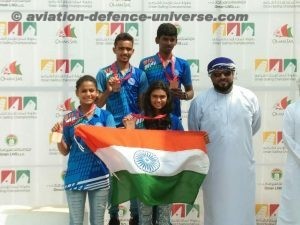 New Delhi. 10 August 2018. It is another feather in Yachting Association of India's Cap. Indian sailors have collected rich haul of medals at the Sultanate Oman Sailing Championship. Out of the six contestants from the Indian contingent, which participated in the Oman Sailing Championship, 2018, five returned home with medals. These include three golds, a silver and a bronze.
Ritika Dangi won the gold in the Optimist class while Uma Chauhan got the bronze in the same race. In the Optimist class boys' race, Ashish Vishwakarma clinched the gold and Neel Anand won the silver. In the Laser 4.7 Class, Satish Yadav bagged the gold medal.
The weeklong competition held between August 2 to 8 saw 130 sailors between the ages of 10 and 17 compete in various races at the Sur Sailing School. Yachting Association of India (YAI) acknowledged the sterling performance of the Indian sailors and said that these 13 to 16 year old sailors are the future Olympic medal hopes for the country.
A senior YAI official said that this path-breaking performance proves the fine mettle of Indian sailors. With support of the Ministry of Youth Affairs and Sports, these young sailors are already being groomed to get a podium finish at the Olympics. Dedicated training has been imparted to these young under 16 sailors by the YAI with assistance of the sports ministry and the Sports Authority of India (SAI). President YAI congratulated the medal winners for bringing glory to the nation.