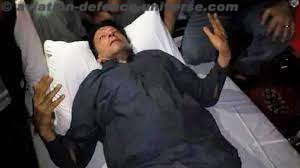 By Jai Kumar Verma
New Delhi. 18 November 2022. On 3rd November 2022 former Prime Minister Imran Khan Niazi was shot in the shin at Wazirabad. He was leading a protest march against the government. The two assailants armed with pistol and an automatic rifle shot at Khan. Although the attackers claimed that they wanted to kill only Imran Khan but in the attack eight members of Khan's Pakistan Tehreek-e-Insaf (PTI) party including two senior leaders were injured while one party worker was killed.
Khan in his first public address, after attack, on 4 November alleged that he was aware that a plot was hatched to assassinate him and four bullets were hit on 3rd November when he was leading the long march in Punjab province.
Prime Minister Shahbaz Sharif denounced the attack and directed the Interior Minister Rana Sanaullah to get complete report of the incident from police. According to reports one assailant Naveed belongs to Arain caste which is an influential Punjabi agriculture tribe while Imran Khan Niazi is of Niazi Pashtun tribe. Pakistan is ruled by Punjabis and all other nationalities including Pashtuns are treated as second class citizens.
After the assassination attempt on Khan, the PTI workers became violent and there were large scale protests in whole of Pakistan after Friday prayers on 4th November. The protesters blocked important Murree Road which is also known as Benazir Road which joins Rawalpindi to Islamabad. The protesters fought with police at Faizabad intersection. Angry demonstrators surrounded Governor house in Lahore and tried to enter it forcibly. In fact, widespread protests covered most of the cities of Pakistan. Protests were held in more than 25 cities including Peshawar, Gujranwala, Faisalabad, Bhakkar, Rawalpindi, Bahawalpur, DG Khan, Rajanpur, Sialkot, Layyah, Gujrat, Muzaffargarh, Alipur, Mianwali, Sahiwal and Okara.
Khan also alleged that three persons including Prime Minister Shahbaz Sharif, Interior Minister Rana Sanaullah and Major General Faisal Naseer posted in Inter Services Intelligence (ISI) are the main suspects behind his assassination effort. Khan also mentioned that above mentioned three persons must be removed so that an impartial enquiry can be conducted. While Sharif and Rana strongly denied the allegation, ISI issued a statement mentioning that the allegations against Major General Naseer were "baseless" and "irresponsible".
There are several theories behind the attack. Few claimed that a terrorist organisation based in Afghanistan has carried out this shooting attempt while opponents of Khan allege that it was a drama organised by Khan and he had not received any bullet injury. PTI workers claim that ISI was behind this attack. Since Khan was removed from Prime Ministership the deep state in Pakistan has put several legal cases against him.  ISI chief Lt. General Nadeem Anjum alleged in a press conference that Khan was asking the army to extend illegal and unconstitutional support but army refused to do it. Khan was also disqualified for five years by electoral commission on charges that he illegally sold the gifts received from other heads of states when he was Prime Minister.
According to reports Pakistan security forces used excessive force to suppress the demonstrations. Army also used helicopter gunships against demonstrators in Peshawar. Imran Khan is continuously criticising Pakistan Muslim League (N) and Pakistan Peoples Party (PPP), claiming that the family members of Sharif and Bhutto families are corrupt and have looted the country. He also criticised army generals. In Pakistan no one ever dared to criticise the formidable army but Khan did it. Khan wanted to retain Lt. General Faiz Hameed as ISI chief as he helped him in winning the elections but army chief general Bajwa appointed another person as ISI chief.
Khan's other target was United States, he emphatically claimed that US was behind his ouster and General Bajwa and other opposition leaders connived against him. There are deep-rooted anti-American sentiments in Pakistan. Public liked his rhetoric and he swept national as well as provincial bye-elections. There are reports that Khan has created dissension in army and now one group in the army supports Khan and its support has emboldened him to criticise army and its generals so blatantly. The middle level officers in the army extend their full support to Imran Khan.
Khan has support of public is evident from the fact that in October 2022 by- elections, PTI contested seven seats in national assembly and three in Punjab assembly. PTI won six national assembly seats and two seats in Punjab assembly.
The present scenario in Pakistan has become very complicated. On one hand the country's economic condition is precarious and it is becoming difficult for it to repay the debt. There is not only the scarcity of essential items but several items have become out of reach of the masses because of price rise. One dollar is equal to more than Rs. 220. The import of the country is increasing while export is decreasing. IMF, United States, China, and other foreign countries are extending financial assistance but still economic problem is continuing.
As fundamentalism have increased manifold, extreme differences have cropped up between Sunnis and Shias. Both sects have constituted different terrorist organisations and are attacking each other. Several blasts have occurred on mosques of both factions in which hundreds of innocent people have lost their lives. Condition of minorities is pitiable. According to reports large number of Hindu and Sikh girls are kidnapped, converted, and married to Muslims in all over Pakistan especially in Sindh. Christian girls are sold to Chinese and they take them to China.
The term of present army chief General Bajwa would be over on 29 November. Khan wanted to have elections before this date so that he could have chosen army chief. Now the new army chief would decide the future rulers of the country, nonetheless the new army chief would first like to end the rising dissension in the army and would strengthen his own position in defence forces. He will have to work hard for raising the image of army in the country as army claims itself as the saviour of the country. PTI has badly damaged the image of army in Pakistan hence the new chief would have to make extensive efforts to restore army's image.
Although Imran Khan has support of public but army, opposition parties, United States, and China all are against Khan and they would directly or clandestinely see that he and his party PTI does not win elections and come to power. If Khan comes to power, then it would be the victory of democracy and democratic institutions would be strengthened. But army, which directly or indirectly ruled the country since its existence, would not allow him to come in power. The condition of Pakistan would remain perilous and common man will continue to suffer. PPP, PML(N) and army together would side-line Khan.
The economic catastrophe, political turmoil, rising extremism, increasing dissension and rebellion among different nationalities may lead to one or more divisions of the country. The downgrading of the image of army would also expedite the disintegration of the country as Pakistan Army is a big unifying force in the country.
 (Jai Kumar Verma is a Delhi-based strategic analyst and Life member of United Services Institute of India and member of Manohar Parrikar Institute for Defence Studies and Analyses. The views in the article are solely the author's. He can be contacted at editor.adu@gmail.com)