The initiative aims to introduce girls to the possibilities available in a career in aviation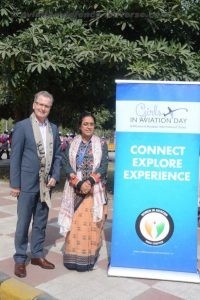 Indore. 20 December 2019.Women in Aviation International, India Chapter and Lockheed Martin India Private Limited in association with Airport Authority of India (AAI) today celebrated 'Girls in Aviation Day' at Indore Airport. With the vision to encourage girls to take up STEM subjects and explore career opportunities in related industries, the initiative is aimed at showcasing opportunities in the aviation and aerospace sectors.
The event is part of Lockheed Martin's ongoing commitment and investment in developing the next generation of future engineers, explorers and scientists in India. This initiative also aligns with the Government of India's 'Skill India' initiative.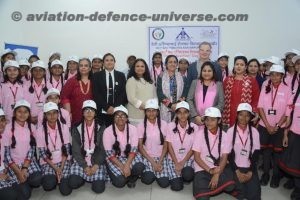 As part of the program, Women in Aviation International (India Chapter) invited more than 50 students from various schools for a tour of Indore Airport. Visiting students were given an opportunity to explore, learn, and discover various aspects of aviation and aerospace roles such as Air Traffic Controller (ATC), airline dispatch, pilot, aviation maintenance technician, aeronautical engineer and aviation management. In addition, the students were given a tour of the ATC Tower, Fire Section & Terminal Building and had their questions answered by the officials working in the respective departments.
Speaking on the occasion, Mrs. Radha Bhatia, President, Women in Aviation International (India Chapter) shared, "This is the fourth year that the WAI India Chapter is celebrating 'Girls in Aviation Day' and we are delighted to host the same at Indore. This day is celebrated for the young girls to encourage them to choose aviation as a viable career opportunity. World over India has the maximum number of female pilots but there are many other avenues that are still unknown. With this celebration our aim is to see girls from the state of Madhya Pradesh explore exciting careers available to them as engineers, air traffic controllers and dozens of other jobs within the aviation."
"We will continue our endeavour to introduce young girls to role models and educate them in a fun and supportive atmosphere. We are very fortunate to be able to partner with Lockheed Martin India and Airport Authority of India for this event. Their efforts in leading youth into STEM careers is truly commendable." added Mrs. Bhatia.
Speaking about Lockheed Martin's commitment to this initiative, Mr. William (Bill) Blair, Vice President and Chief Executive, Lockheed Martin India said, "Being a leading global security and aerospace company, Lockheed Martin understands the importance of STEM education and its impact on the Indian economy. As part of our commitment to 'Skill India' initiative, we are proud to partner with Women in Aviation (India chapter) for the fourth consecutive year. Through the 'Girls in Aviation Day', we seek to help narrow the skills gap with STEM education, fostering a learning environment and empowering young women with necessary skills needed to succeed in aviation and aerospace industries."
Post the airport tour, the students were given a presentation about the aviation and aerospace industries and its functioning. Students also received an opportunity to interact with the Airport Director, Ms. Aryama Sanyal, Ms. Tanima Nigam, Assistant General Manager, Air India along with Ms. Noopurr R Chablani, Secretary, Women in Aviation International (India Chapter).