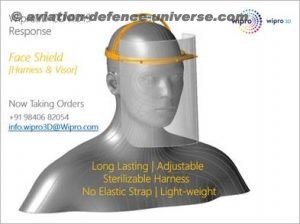 New Delhi. 16 April 2020. Wipro 3D, a division of Wipro Enterprises (P) Ltd. in collaboration with Defence Research and Development Organization (DRDO) has developed a Face Shield design that is comfortable, sterilizable, light-weight and re-usable.
The Face Shield provides an additional layer of security to prevent COVID19 infections by blocking micro-droplets and preventing users from touching their face.
India and the world at large are currently combating an unprecedented humanitarian and healthcare crisis arising from the COVID19 pandemic. The Indian industry has responded quickly to COVID19 with a variety of initiatives. 
The Wipro group, in particular, has been monitoring the pandemic round-the-clock and has committed USD 154 million to help the medical and service fraternity who are at the frontlines in the fight against COVID19. Additionally, about 60,000 meals are being given from Wipro canteens as well as sanitary kits are being distributed to those in need.
The healthcare workers who are at the frontline of treating COVID19 patients are at high risk of getting infected themselves, due to lack of Personal Protective Equipment. Government agencies and hospitals the world over are racing to provide Personal Protective Equipment as an added layer of security when dealing with COVID19 patients. Given the Wipro group's engineering expertise, some of its businesses are stepping up to offer specific solutions for COVID19.