Jai Kumar Verma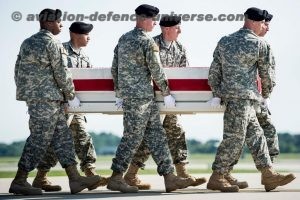 New Delhi. 17 April 2021. It looks like that the end to the longest war US has fought is near. President Joe Biden recently announced that all American combat troops would be withdrawn from Afghanistan by 11 September 2021, which will be the twentieth anniversary of the terrorist attacks on World Trade Centre and Pentagon by the Wahhabi terrorist outfit Al-Qaeda. This war in Afghanistan saw 2,400 American soldiers getting fatally wounded and it cost more than two trillion dollars to the exchequer.
A majority of American government's military advisers are against the withdrawal and feel that there would be resurgence of the terrorist threat while U.S. intelligence reported that the Afghan National Defense and Security Forces (ANDSF) will be unable to face the onslaught of Taliban but still Al Qaeda and other terrorist organisations are in no position to strike U.S. from Afghanistan. A senior American official mentioned that the troop withdrawal will start from 1 May and will end before the symbolic date of 11 September.
A lot of water has flown under the bridge since President George Bush with overwhelming national and international support attacked Afghanistan to punish al Qaeda chief Osma bin Laden as he was hidden in Afghanistan by Taliban who were ruling the country.
Zabihullah Mujahid a Taliban spokesman stated that "We are not agreeing with delay after May 1", he also mentioned that "Any delay after May 1 is not acceptable to us.". U.S. made it clear that U.S. forces would be repositioned in the area and will keep a watch on Taliban that they adhere to the commitment of not carrying out a terrorist threat to U.S. or Europe. However, it will not be easy for U.S. troops to protect Afghan government from outside. It would also be difficult for U.S. to keep watch on Taliban about their links with terrorist outfits. U.S. is maintaining array of air bases in the gulf, a regional air headquarters at Qatar and an important air base in Jordon. But still launching air attacks from distance may be difficult.
Few Afghan watchers mention that U.S. will withdraw the forces but will launch clandestine operations through contractors, serving and retired officials of National Directorate of Security (NDS) which is part of Afghan National Security Forces (ANSF). These special operations would be launched against al Qaeda, Islamic State and may be against Taliban if they try to damage American interests. The fate of President Ashraf Ghani and his government is uncertain.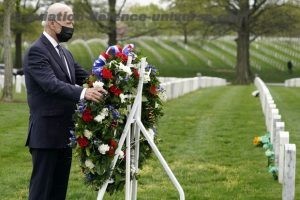 The negotiations between U.S. and Taliban which started in Qatar in September are more or less standstill hence the new rounds of 10-day peace-talks are expected to start in Turkey from 24 April. The purpose of renewed negotiations is to get a solution so that the outline of new government can be formulated. However, it appears to be difficult as Taliban are convinced that Americans are determined to leave early because of domestic pressure and once they leave, they can overthrow the Afghan regime and capture power. In recent past Taliban have increased their domain and Afghan forces had to take help of American air power. Within hours of Turkey's announcement Taliban made it clear that they would not participate in any negotiation until all foreign troops are withdrawn from Afghanistan.
Analysts also claim that as deadline of return of U.S. troops extended Biden administration would press for the release of 7,000 Taliban prisoners. But Afghan government is against release of more prisoners as the released prisoners joined Taliban and attacking Afghan forces. There are about 2,500 U.S. soldiers, about 1,000 additional Special Forces personnel and about 7,000 foreign forces mainly NATO troops are in Afghanistan.
Antony Blinken U.S. Secretary of State made an unannounced visit to Afghanistan on 15 April, during the visit he discussed about the withdrawal of U.S. led NATO troops from war-ravaged Afghanistan by 11 September with President Ghani. Blinken assured Ghani that U.S. is still committed to Afghanistan. He stated that "I wanted to demonstrate with my visit the ongoing commitment of the United States to the Islamic Republic and the people of Afghanistan". Nonetheless Taliban criticised the U.S. decision of delaying the departure and mentioned that it was a "clear violation of the Doha agreement" and they admonished that as U.S. has violated the agreement hence, they will be responsible for future consequences and not the Mujahideen of Islamic Emirate. NATO also announced about the withdrawal of its troops.
The Biden administration is also shifting its focus from counterinsurgency operations to military and economic competition from China, an aggressive and hostile Russia, nuclear programmes of North Korea and Iran. Beside these international pressures there are domestic compulsions also. Hence Afghanistan's importance has considerably dwindled in comparison to other issues. Although few analysts mention that the Afghan government will crumble after the departure of foreign troops.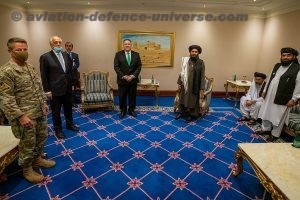 The departure of U.S. led NATO troops from Afghanistan will put enormous pressure on India, as after their withdrawal Pakistan supported Taliban will grab power and it would become a safe haven for the diverse terrorist outfits. Lisa Curtis an important official of Trump administration stated that "Regional countries, especially India, will have tremendous concerns about the US pull out from Afghanistan and the likelihood of a Taliban resurgence in the country". Curtis also mentioned that the terrorists of Lashkar-e-Taiba and Jaish-e-Mohammad were trained for terrorist operations in India including the 2001 parliament attack in New Delhi. There was also close cooperation between the Taliban and terrorists who hijacked Indian plane in 1999.
Husain Haqqani former Pakistan Ambassador in U.S. also stated that "India will worry about Taliban controlled territory being a safe haven for terrorists again." Pakistan assisted Haqqani network which is avidly anti-India will play a pivotal role in Afghan politics and it will target Indian assets in Afghanistan. India succeeded in investing in Afghanistan because of the presence of U.S. led NATO troops which gave some stability in the country. After departure of foreign troops, the stability in the country may also disappear.
After departure of foreign troops, the terrorism would increase, although U.S. Taliban agreement, which is also at stake, mentions that Taliban will preclude terrorist organisations from operating from Afghanistan and will stop any attack on U.S. and Europe. However firstly Taliban are not capable to prevent all terrorist outfits from indulging in terrorist activities and secondly the agreement stops terrorist attacks only on U.S. and Europe and not India. The Inter Services Intelligence (ISI) has undeniable clout on Haqqani network hence the possibility of terrorist attacks on India cannot be overruled. India is involved in developmental projects for which stability is necessary, nevertheless as power will be shared between Taliban and Ghani government hence the chances of stability are remote.
Although it will be difficult, but India should try to inculcate friendship with Taliban representatives. The U.S. troops will stay up to 11 September hence India should immediately appoint a special envoy who will try to safeguard Indian interests by coordinating with Taliban, U.S., and Afghan government.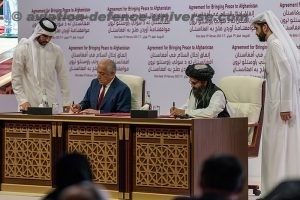 India should continue training and arming Afghan security forces and should also launch long-term capacity building programmes. India's cooperation and assistance to National Directorate of Security should continue and should share as much intelligence as possible. As Afghanistan is also suffering with coronavirus pandemic, India should also help the country with vaccines, medicines, and knowhow.
India should also try to expand its cooperation with other neighbouring countries of Afghanistan especially Russia and Iran. Although Pakistan is totally hostile, but some workable understanding is feasible with China. Although U.S. troops would leave Afghanistan but still it will retain some influence there, hence India should also cooperate with Washington as it is also keen that India play an important role in war-ravaged Afghanistan.
(Jai Kumar Verma is a Delhi-based strategic analyst and member of United Services Institute of India and Institute for Defence Studies and Analyses. The views in the article are solely the author's. He can be contacted at editor.adu@gmail.com)