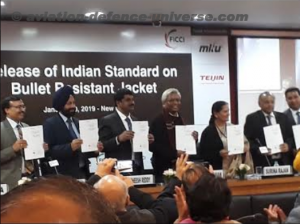 By Surbhi Mahajan
New Delhi. 12 January 2019. The first- ever Indian Standard on Bullet Resistant Jacket was released at a joint meeting organized by Federation of Indian Chambers of Commerce and Industry (FICCI) and Bureau of Indian Standards (BIS). The standard has been adopted by BIS after the draft finalized by the Textiles Protective Clothing Sectional Committee was approved by Textile Divisional Council.
The standard provides protection against small arms and ammunition for the defence, parliamentary and police forces. The adoption is still a milestone and there is a need for more independent labs.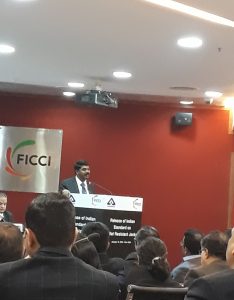 G Satheesh Redddy, Secretary, Department of Defence R&D and Chairman, DRDO, said that standards have to be dynamic and not uniform for different security forces operating in different types of terrain. They should change with the change in conditions. Now there is a need for more independent testing labs. Requirements must change as per the speed of the bullet; this is 800m per second.
Inaugurating the session with his remarkable words, Shishir Jaipuria, Chariman, FICCI Textiles Committee and CMD, Ginni Filaments Ltd, said that it was matter of great pride for the country to have its own standard for bullet resistant jacket. Adding to it, he also said that 'It is not the end; it is the beginning only, it is something which continues to be the primarily domain of the developed countries.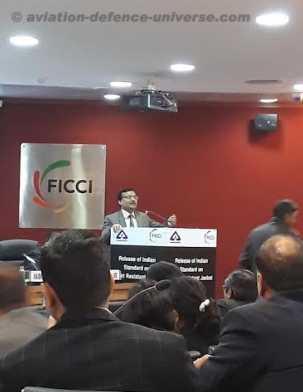 Announcing the release of the Indian Standard of Bullet Resistant Jacket, J K Gupta, Scientist 'D', BIS, gave brief information about different sizes of the jacket and the protection areas including Torso, Neck, Shoulders and Groins.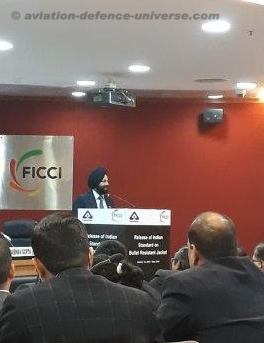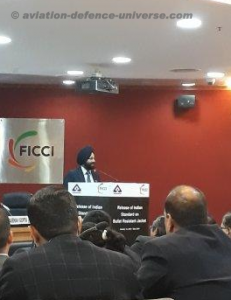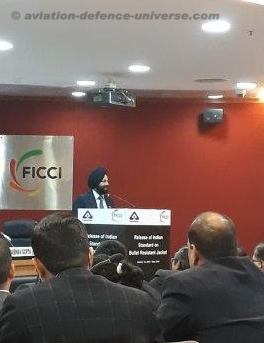 Dr Manjit Singh, Director, Terimal Ballistics Research Laboratory (TBRL), also discussed the maximum permissible limit which is from 25mm to 44mm .Stating the facts, he said that shelf life of SAP and HAP ballistic panels shall be 5 years.
Some critical points that were put forward during question answer session were that –
How many bullets the jacket can withstand at one single point? That was acknowledged by Singh as he clarified the doubt by saying, "That is why it is bullet resistance and not bullet proof as it can penetrate only 1 bullet at a time. Indian Standard is applicable to armed forces, to BPR&D, to everyone who is into buying bullet proof jacket and not only 1 segment of the society once it is released.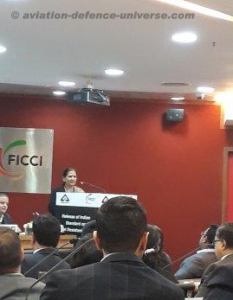 Surina Rajan, Director General, Bureau of Indian Standards (BIS) emphasized on the use of lighter material for jackets .She said, "Our work begins now as we have the indigenous capacity to go to the next level." Is for bullet resistant jackets will help in speeding up procurement by the user agencies and in testing of the material.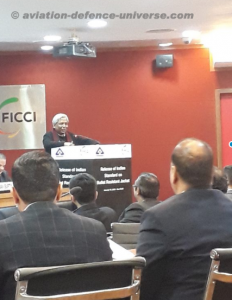 Prof. K VijayRaghvan, Principal Scientific Adviser to the Government of India stated the challenge which was to reduce the weight of the jacket from 10.5 kg to 6 kg in agreement with scientific criteria. He said that the action would be to address the queries by BIS and DRDO labs and equipments and methodologies for testing the standard.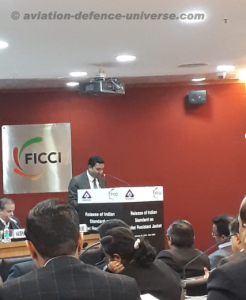 The session was concluded by Vaibhav Gupta, Co – Chairman, FICCI Homeland Security Committee and Director, MKU, by saying that BIS is expected to play larger roles now and since material testing is also important and labs are available in India therefore standards for materials also need to be identified and incorporated in Indian standards.
Many other areas also like explosives, explosives maintenance and explosives detection need to have standardization .We need to have our own standards and develop them for our own conditions and for our own people who are using it. Support from DRDO will be provided .New standard marks a good beginning and it is hoped that the Indian security forces adopt the standard expeditiously. The standard should be adopted in all procurement orders of the security forces.