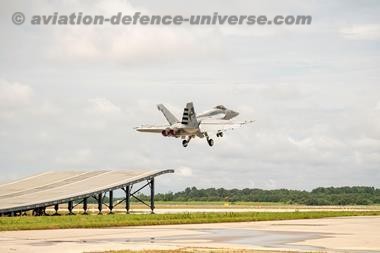 With US Secretary for Defence in Delhi many questions might get answered?
By Sangeeta Saxena
New Delhi. 20 March 2021.  When  Indian Navy launched a global search for maritime fighter jets it plans to operate from future aircraft carriers ,  some key attributes which came to mind were stealth, survivable, lethality, networked, reliability, interoperability, easy to maintain and apt  for the Indian pockets to procure. But the most important points are that the carrier aircraft need to be tough, easy to launch, easy to land, and easy to maintain.
And in addition Indian Navy like any other Navy will also prefer a fighter which designed for carrier operations, is a combat proven, supersonic, all weather multirole fighter jet , will carry on till the mid of this century and will be delivered both on cost and on schedule.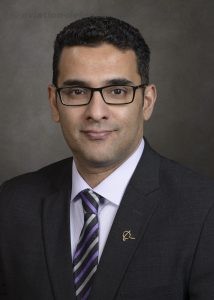 "The F/A-18 Block III Super Hornet, in addition to providing superior tactical air capabilities to the Indian Navy, will also create opportunities for cooperation in naval aviation between the United States and India in the Indian Ocean Region. The F/A-18 Block III Super Hornet will offer unrivalled growth potential to the Indian Navy through single and two-seater carrier compatible variants. Its ability to interface with the P-8I and other US origin assets makes it a force multiplier," stated Ankur Kanaglekar, Head, India Fighter Sales, Boeing Defense, Space & Security.
And  also a thought comes into the mind that the Boeing F/A-18 Super Hornet deal with the Indian Navy could be on track. The OEM with US Navy has in 2020  proved that the F/A-18 Super Hornet can operate from a "ski jump" ramp, demonstrating the fighter jet's suitability for India's aircraft carriers. The demonstrations, held at Naval Air Station Patuxent River, MD, showed that the Super Hornet is just suitable for the Indian Navy's Short Takeoff but Arrested Recovery (STOBAR) system.
Boeing officials have over the years been reiterating that the F/A-18 Super Hornet not only has a low acquisition cost, but it costs less per flight hour to operate than any other tactical aircraft in US forces inventory. As a twin engine fighter, the Super Hornet costs less to operate than single engine fighters. Also the Super Hornet does not require any scheduled Depot-Level maintenance and the engine does not require any scheduled maintenance between overhauls, they insist.
In addition Super Hornet has a buddy refuelling capability that can extend time on station, range, and endurance , can provide close and deep air support through the Active Electronically Scanned Array (AESA) radar targeting data and reliable data links, multi-mission capabilities include battle-space situational awareness, counter stealth targeting, greater range and increased acceleration, improved survivability and reduced signature and room for growth.
One fact ofcourse remains that being a twin-engine aircraft help provide the warfighter a margin of safety that does not exist in a single-engine platform. A single-engine aircraft is likely lost due to engine malfunctions or loss of thrust while a twin-engine platform can lose an engine and still safely return to the carrier.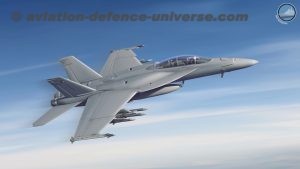 Boeing also explained that mounted on the shoulder of the Block III, conformal fuel tanks extend the range of the Block III by 100 nautical miles which is significantly larger range when compared to the Block II. Conformal Fuel Tanks also free up the space occupied by a centerline drop-tank giving the Navy have an additional hard-point to carry more air-to-air or air-to-ground weapons. With multi-role capabilities, advanced technologies with room to grow and low acquisition and sustainment costs, the Super Hornet is the clear choice for India, feels the US Aerospace major.
India's need of the hour is also a carrier fighter which will be able to successfully defend against — and overcome Chinese aircraft carriers with their deployed air wings consisting of Su-33/J-15s, and possibly indigenous J-20s and J-31s in the future. The F/A-18 Block III Super Hornet is the newest highly capable, affordable and available tactical aircraft in U.S. Navy inventory and should be able to lock horns when need arises.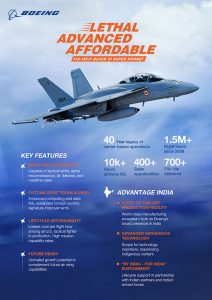 The manufacturer has always reiterated that the combat-proven Super Hornet delivers cutting-edge, next-generation multi-role strike fighter capability, outdistancing current and emerging threats well into the future. The Super Hornet has the capability, flexibility and performance necessary to modernize the air or naval aviation forces of any country. Two versions of the Super Hornet – the single-seat E model and the two-seat F model – are able to perform virtually every mission in the tactical spectrum, including air superiority, day/night strike with precision-guided weapons, fighter escort, close air support, suppression of enemy air defences, maritime strike, reconnaissance, forward air control and tanker missions. Also F/A -18 Super Hornet will not require any modifications to the US Navy ones to operate from Indian carriers.
Pentagon's chief and US  Secretary of Defense Lloyd James Austin III is on his first visit to India after his  government  took over exactly two months ago on 20th January 2021. India's INS Vikrant, the 40,262 tonne IAC-1 that is scheduled to join service in 2022, still has to make it's choice of fighters. The Naval LCA has demonstrated arrested landing on INS Vikramaditya and successfully performed ski-jump take off too, but will HAL be able to give the required numbers to INS Vikrant? This is where the chances for F/A-18  become brighter. So it is a wait and watch for both the Indian Navy and Boeing and I am sure both are keeping their fingers crossed.