By JK Verma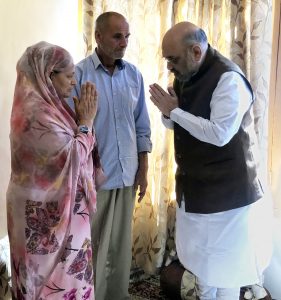 New Delhi. 01 August 2019. The order of home ministry about the deployment of 100 more companies of Central Armed Police Forces (CAPF) to maintain law and order and bolster counter insurgency operations have generated fear and panic in the valley.
The valley based political leadership issued multiple statements criticising and condemning the deployment. Mehbooba Mufti the President of Peoples Democratic Party (PDP) wrote on Twitter that "Centre's decision to deploy additional 10,000 troops to the valley has created fear psychosis amongst people." She further tweeted that "J&K is a political problem which won't be solved by military means. GOI needs to rethink & overhaul its policy".
Shah Faesal a bureaucrat-turned politician also questioned about the sudden mobilisation of forces and apprehended that it may be a move to revoke Article 35A. National Conference Vice President Omar Abdullah also cautioned central government that constitutional provisions should not be touched. National Conference president Farooq Abdullah sought an appointment with Prime Minister while Mehbooba Mufti requested Farooq Abdullah to convene an all-party meeting.

The analysts claim that Bhartiya Janata Party (BJP) promised in its "Sankalp Patra" for Lok Sabha elections 2019 that "We reiterate our position since the time of the Jan Sangh to the abrogation of Article 370″. The Sankalp Patra also mentions that Article 35A is an hinderance in the development of the state. Besides Sankalp Patra BJP leaders were constantly stating about the abrogation of Articles 370 and 35A. The leaders categorically mention that the abrogation of these articles is essential for the complete merger of J&K with the country.
Hence BJP is determined to abrogate both these articles. The deployment of 100 companies include 50 companies of Central Reserve Police Force (CRPF), 30 companies of Sashastra Seema Bal (SSB) and 10 companies each of The Indo-Tibetan Border Police (ITBP) and Border Security Force (BSF). These 10,000 personnel are over and above the 40,000 CAPF persons who were already deployed in J&K for the conduct of 45-days Amarnath Yatra which started on 1st July. Previously Centre also sent 200 companies of CAPF for performing election duties in early 2019. These companies are still in the state. At present 61 battalions of CRPF are in J&K state.
Amit Shah after taking over as Home Minister paid a two-day visit to Kashmir. He held a meeting in Srinagar which was attended by Governor Satya Pal Mallik, Union Home Minister Rajiv Gauba and other senior Central and state officers. He also met Lieutenant General Ranbir Singh, General Officer Commanding-in-Chief, Northern Command. Amit Shah also met prominent civilians and asked to cooperate in restoration of peace and tranquillity in the state. In his visit he emphasised that there should be zero tolerance towards terrorists, stringent actions should be taken against terror funding and rule of law should be established. Both BSF and army should be vigilant, foreign infiltrators should be exterminated and infiltration must be stopped. He clarified that the central government will decide about the revocation of Articles 370 and 35A and the delimitation of the state will be done.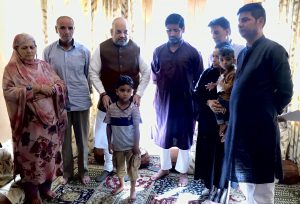 After the visit of Home Minister, Chief of the Research and Analysis Wing (R&AW) and master mind of Balakot surgical strike Samant Goel also visited Srinagar. Samant Goel who is an IPS officer of 1984 batch also planned the cross-border surgical strike by Army in 2016. The valiant soldiers of army destroyed seven launching pads of terrorists in Pakistan Occupied Kashmir (POK) and killed about forty Pakistani terrorists, their instructors and guides. The planning was so perfect that all Indian soldiers came back without any harm. The R&AW chief visited the Line of Control (LoC) and met officers and civilians and assessed the ground situation in the valley.
The MHA order about the deployment of CAPF companies came just after the conclusion of two days visit of Kashmir of national security advisor (NSA) Ajit Doval. It is mentioned that although officially NSA had not chaired any meeting, but he met separately all three advisors of Governor Satya Pal Malik, Chief Secretary and Director General of Police. Doval also met few prominent civilians during his sojourn in Kashmir. He visited Amarnath cave and paid obeisance however after his return at Delhi he immediately met Prime Minister Modi and briefed him about the situation in Kashmir.
On 26 July K Vijay Kumar, a retired IPS officer and presently serving as advisor to governor of J&K and looking after the state home department held a meeting with chief secretary B.V.R.Subrahmanyam and other top officers and decided about the deployment of CAPF companies. It was decided that the current CAPF companies would be deployed in North Kashmir which previously was the hotbed of terrorism.
Besides these visits there are ban on civilian traffic on the Srinagar highway twice a week. New pickets and bunkers were constructed in the old city where terrorists are active. Rumour is rife that J&K will be divided in three parts including Jammu area, Ladakh area and the valley. There are also reports that there will be delimitation of assembly seats in which seats in the valley will be reduced and more seats will be given to Jammu region.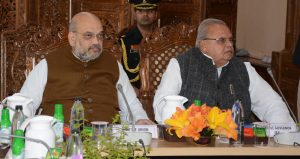 Article 35A of the constitution allows the legislature of J&K to define "permanent resident" of the state and it also gives "special status" to the residents of the state. The article was added in the Constitution by an executive order without any discussion in the Parliament. The Article 370 restricts the power of the parliament to formulate laws about the J&K state. The constitutional validity of these articles are already challenged in Supreme Court and the case is pending.
The National Investigation Agency (NIA) is also very active in J&K. NIA interrogated several people including pressmen, politicians and businessmen and also filing charge sheet in the "terror funding case." NIA also conducted raids in city and rural areas and arrested few persons.
The government is also keeping the record of Imams of all major mosques. It is visualised that the Imams will be persuaded to speak about restoration of peace after prayers especially after Friday prayers. The Imams who will continue instigating the masses will be booked under stringent laws.
Mukesh Singh an IPS officer of J&K was prematurely repatriated to his parent cadre from central deputation while another IPS officer SP Pani who was about to join R&AW on deputation was not relieved. Munir Khan Additional Director General of Police (Law and Order) was given one-year extension in service. Farooq Khan another counter insurgency expert police officer joined as new advisor to Governor Malik. The current Intelligence Bureau (IB) Chief Arvind Kumar is also Kashmir expert and in view of current developments the present Joint Director of IB although completed his tenure but not recalled to Delhi.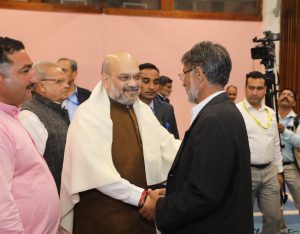 Dilbagh Singh the Director General of Police of J&K stated that there is nothing extra ordinary and the current deployment is just to provide some rest to the current CAPF personnel. Official sources also claim that according to reliable intelligence information sinister Inter Services Intelligence is planning to carryout major terrorist activities in the state on or about Independence Day. It is necessary to boost the morale of terrorists which is down because of Operation All Out under which security forces eliminated large number of terrorists and their commanders. But the separatists are spreading different types of rumours including that the central government want to withdraw these articles so that the demography of the state can be altered. They allege that BJP wants that J&K should not remain a Muslim majority state.
Deployment of such large number of forces and visits of senior people like Home Minister, NSA and R&AW Chief cannot be without any specific purpose. Shifting of Rajnath Singh to Defence Ministry and taking over by Amit Shah as Home Minster is a clear indication that as soon as possible present government will revoke Articles 35A and 370. Some action can be seen after the end of Amarnath Yatra on 15 August. The parliament session will also be over by that time.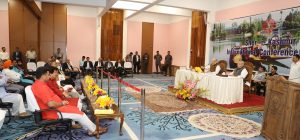 Several constitutional experts mention that Article 35A was promulgated through Presidential ordinance hence it can also be revoked through presidential order. Analysts also claim that the statements of political leaders and secessionists that Kashmir will become uncontrollable and law and order will collapse if articles 35A and 370 are revoked is erroneous. These statements are not based on facts and are given with ulterior motive and security forces should not be guided by these assertions.
(Jai Kumar Verma is a Delhi-based strategic analyst and member of United Services Institute of India and Institute for Defence Studies and Analyses. The views in the article are solely the author's. He can be contacted at editor.adu@gmail.com)