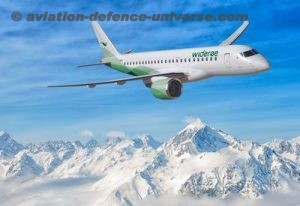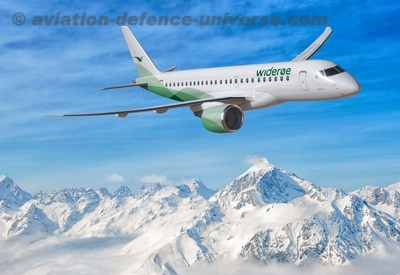 Sao Paulo, Brazil, 05 April 2018.  Widerøe got its first Embraer E190-E2 aircraft, powered by Pratt & Whitney Geared Turbofan™ (GTF) engines. The delivery was commemorated in a ceremony attended by Embraer, Widerøe and Pratt & Whitney officials at Embraer's headquarters in São José dos Campos, São Paulo, Brazil.
"We are thrilled to be the first airline in the world to put the E190-E2 into commercial service. We will be able to fly farther, faster, and more often, and are proud to offer an improved passenger experience," said Widerøe President & CEO Stein Nilsen. "The GTF engine consumes less fuel, generates fewer emissions and produces much less noise, reinforcing our commitment to lowering our carbon footprint and impact on the environment."
Widerøe is the largest regional airline in Scandinavia, operating more than 450 flights per day to 46 domestic and international destinations. The E190-E2 is the airline's first turbofan-powered aircraft, which will allow it to expand its route network, particularly to international destinations. The airline has been a part of the Pratt & Whitney family since the late 1940s, when it began operating Wasp R-1340 radial engines. Widerøe's focus on reducing environmental impact and adopting green technologies makes the GTF engine a perfect fit.
"On behalf of the entire Pratt & Whitney team, I'd like to congratulate Embraer and Widerøe on this exciting occasion. We are honored to power the E190-E2 and look forward to delivering the GTF's significant economic and environmental benefits when it enters service in just a few short weeks," said Chris Calio, president, Commercial Engines at Pratt & Whitney. "Widerøe currently operates our PW100 engines, and we are proud to power the airline's growth and extend our successful 70-year relationship for many years to come."
The E190-E2 aircraft received certification from the Agência Nacional de Aviação Civil (ANAC), Federal Aviation Administration (FAA) and from the European Aviation Safety Administration (EASA) last month, and is scheduled to enter revenue service with launch customer Widerøe later this month.
In addition to being selected as the exclusive engine for the E2 commercial aircraft, Pratt & Whitney's APS2600E auxiliary power unit (APU) is the sole-sourced APU for the E2 family. The APS2600E APU gives airlines greater flexibility, by increasing the altitude ceiling for ETOPS and other operations, and providing a significant increase in electrical power delivery, to meet the needs of today's airlines.
The E190-E2 marks the third aircraft platform powered by the GTF engine. The aircraft has more than 17% reduction in fuel burn than the current generation E190, with NOx emissions 50% below the ICAO CAEP/6 regulation and a cumulative noise reduction of ICAO Chapter 4 minus 17 to 20dB