By Suresh Somu
Jakarta. 23 September 2019. Can big fish play in same sea as the small fish? This is the underwater tightrope situation Philippines President Rodrigo Duterte is feeling as he tries to perform what he calls a "delicate balancing act".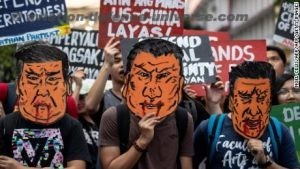 He has come under particular criticism lately over his approach to China, setting off large-scale protests recently when he argued that there was little he could do to assert his country's sovereignty in the face of Beijing's military might.
President Duterte, who took power in 2016, is halfway through a six-year term. And he wants to flex his muscles and declared the Philippines "separation" as he chose to rebalance his country's diplomacy towards China.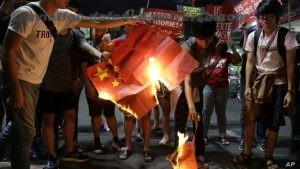 On the other hand, the bigger fish wants to flush its mighty aquatic powers too and President Xi Jinping has diplomatically called the two countries "neighbours across the sea with no reason for hostility or confrontation"
At home, Duterte has had to manage China-induced anxieties within the two sectors closest to his heart: Business and the military. Political analysts are of the view that by declaring a strong alliance with China, he is going against the Filipino people's inclination towards the traditional long-time ally, the United States of America.
Immense Pressure
Rightfully, three years had passed since Dutere has been in power. And he is facing immense pressure at home to challenge China despite the economic benefits presented. After setting the standoff for years, he further downplayed the recent incident as a "little maritime accident"; the sinking of a Philippine fishing boat off in June; causing an uproar among Filipinos who portrayed Dutere as being soft and to an extend naming him as "coward".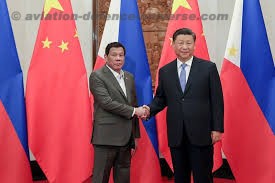 The Philippine military, too, has multiple bones to pick. This year alone, a staggering number of 12 incursions by Chinese warships into Philippine seas with detection radar turned off when crossing Philippine territory were reported. Earlier this year, Philippines Defence Secretary Delfin Lorenzana expressed his utmost displeasure and remained sceptical each time when China claims it does not bully other nations that care claiming parts of the South China Sea.
Lorenzana said China's occupation of the Scarborough shoal, just 358 km west of Philippines main coast, was proof Beijing's intentions had not been benevolent. To date, China has turned seven reefs it occupied in the south half of the South China Sea into islands to secure its claims and equipped with military equipment and systems. Furthermore, Chinese warships makes unannounced passes through the Philippines' southernmost islands. So does all this activities add up to peace?
Eighth Meeting
The tsunami-like question: Will diplomacy prevail between Philippines and China?
It was the eighth meeting between Duterte and Xi as the latter referred him as "an old friend" Despite the scenario being painted rosy, in the end, it boils down to safeguarding of national interests with economic and military muscles.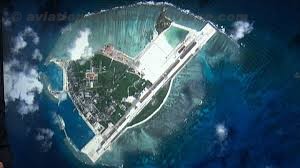 And for Duterte, his main objective was to show the Philippines and international community that he is not afraid of China and he will bring up the arbitration ruling. At the same time, he already knew that his raising the Hague ruling would yield no real results, save for public relations brownie points back home. However, what's left if all diplomatic channels fail?
Experts have further suggested pushing for a United Nations resolution backing the ruling or rallying support among other states in Southeast Asia affected by China's expansive claim to the South China Sea. But will all this make China budge?
So if a country has claimed almost the entire ocean as theirs with two million-strong People's Liberation Army (PLA), armed with advanced jet fighters, nuclear submarines, missiles and an aircraft carrier. Is this wishful thinking?
Mock Exercises
About 1,500 Philippine military personnel engaged in a fortnight that comprised of combat drills on land, sea and air. It will include mock interdictions and amphibious landings on two island provinces fronting the South China Sea. Officials said the exercises are meant to strengthen the military's capability to defend the country's territory. It has no bearing towards the territorial conflicts.
It may seem a little too late now as China is well entrenched in the South China Sea. And so the meeting with Xi have ended cordial, but Mr Dutere returned with empty hands. He had no alternative strategy to counter the outright rejection of the arbitral ruling by China.
In short, Dutere had no plan, no strategy and zero expectations. As he enters the last phase of his term, he seemed to have no inkling and his pivot to China had made him lose the opportunity afforded by Hague ruling to exercise leadership in a region.
Now can the small fish ever think of turning the sea-tables over the big fish? Duterte better get his head above water and start explaining to his country folks what he really means by a "delicate balancing act".