PARIS – The World Food Programme (WFP) will be present at the Paris Air Show held at Le Bourget from 17 to 23 June 2019.
Specialists from our aviation team will be available to answer questions about our operations, technical aspects and innovations.
The Paris Air Show is particularly known for its civil and military aerial demonstrations, as well as showcasing the latest innovation in the industry. It also offers an opportunity to showcase the importance of aviation in the humanitarian setting.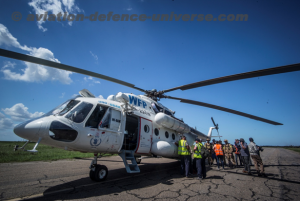 WFP operates its own air service, ensuring that both aid and aid professionals are able to reach geographically isolated areas.When heavy rains or attacks by armed groups make transportation by road difficult, an air service like this can assure that lifesaving food and help reach people in need. The aircrafts are also used by UN agencies, NGOs, government officials and journalists. The fleet is composed of 90 aircrafts, both planes and helicopters.
WFP is constantly looking for innovations that optimize its air service and improve its crisis management, whether it concerns speed, fuel consumption, take-off and landing capabilities and storage capacity. WFP has also made significant progress in the use of drones.