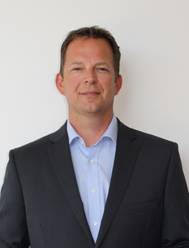 Bremerhaven,Germany. 25 September 2020. WesCom Defence, the world-renowned specialist in pyrotechnic products for signalling, illumination, and training and simulation for the defence industry, announces the appointment of Ross Wilkinson as its new Chief Executive Officer.
Ross joined the firm on 1 August 2020 and is responsible for the group growth strategy and management of the business – both across the defence business and marine division under WesCom Signal and Rescue. He will be implementing a number of strategic projects aimed at improving the brand's service levels and value proposition to its customers, further enhancing its position as a leading critical safety supplier
Bringing over 20 years of industry expertise to the brand, Ross previously held senior management positions, most recently at Survitec Group as Vice President for Northern Europe and previously as General Manager for Marine at Orolia Group.
Commenting on his appointment, Ross says, "WesCom is renowned as the leading manufacturer and supplier of pyrotechnic distress and safety signals throughout the maritime sectors, and our desire is to emulate this position in the defence sector. We have already strengthened the commercial sales team and have ambitious growth plans for the future."
WesCom Defence was purchased by Sun European Partners, LLP earlier in 2020, and now has the financial and leadership backing to support the brand's growth plans, including potential new acquisitions.
WesCom Defence has three primary product groups – Signalling & Illumination, Training and Simulation, and Minefield Breaching. Part of WesCom Signal and Rescue, the manufacturer has been delivering advanced pyrotechnic technology for over five decades, both for civil and military applications.