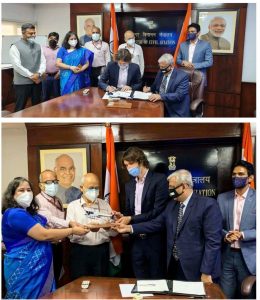 Starts its business transaction-Orders Airbus H125 Helicopter
New Delhi. 07 July 2021. Vman Aviation Services IFSC Pvt Ltd (Vman) is India's first Aircraft leasing company, approved by IFSCA under MOCA initiative. Vman is focused on operating lease solutions to the general aviation market which currently has less than twenty percent assets on lease. Vman has placed an order for Airbus H125 Helicopter to start the first lease transaction onshore. H125 has proven to be a preferred choice for heli-pilgrimage, urban air mobility, rescue, air ambulance and aerial work missions in India and globally.
India has seen explosive growth in commercial civil aviation in the last two decades. This growth has catapulted our country into one of the top five commercial civil aviation markets in the world. However, Indian General, Business and Helicopter services have a very limited footprint, especially when compared with the country's geographic and economic size and commercial civil aviation industry.
General Aviation, Business Aviation and the Helicopter services segment are the foundation of any aviation business across the world. This segment is the lifeblood of last-mile connectivity. It fuels on-demand business travel, law enforcement, and emergency services. It is also an invaluable feeder for trained and experienced manpower for the commercial civil aviation industry.
"One of the biggest challenges this segment faces are access to leased equipment at reasonable costs. However, with recently announced Government initiatives, incentives, IFSCA's policy on aircraft leasing, GIFT city infrastructure and our own extensive domestic market experience, Vman can provide economical leasing solutions to the general, business and helicopter segment in India" said Vishok Mansingh, CEO, Vman. "We have chosen the Airbus H125 as the launching product for our aircraft leasing business. We also plan to include additional types of Airbus platforms in our portfolio to meet the requirements of our potential customers in India & globally."
"This will help fuel this segment's growth on par with commercial civil aviation, provide services to new unserved markets, and generate significant employment." said Rajarshi Sen, SVP-Leasing & CFO Vman. "This asset has a very good value retention from an investment point of view. The global acceptability of H125 as an asset class suits the lessor as a good candidate for investment".
Vman will be announcing its first dry-lease transaction also shortly.