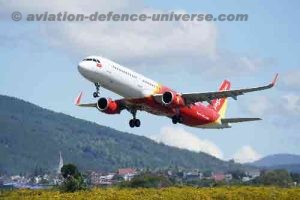 Ho Chi Minh City. 31 March 2022. Vietjet Aviation Joint Stock Company (HoSE: VJC) has released its financial statements for the fourth quarter of 2021, reporting a consolidated after-tax profit of VND100 billion (approx. US$4.4 million) which saw an increase over 2020's.
Though the aviation industry continued to suffer setbacks due to the Covid-19 pandemic in 2021, it has showed signs of recovery since late last year thanks to the nationwide vaccination campaign and the strict implementation of disease prevention regulations to guarantee safe operations and protect the health of the passengers and flight crew.
In Q4-2021, Vietjet recorded a YoY decreasing air transport revenue at VND2,789 billion (approx. US$122 million). The airline, however, gained a consolidated revenue at VND12,998 billion in 2021 (approx. US$571 million) with a consolidated after-tax profit at VND100 billion (approx. US$ 4.4 million) – an increase of 46% over 2020.
As of December 31, 2021, Vietjet's assets totaled nearly VND51,785 billion (approx. US$2.27 billion). Its debt-to-equity ratio stayed at 0.91 while the liquidity ratio was at 1.63 – all were considered good indicators in the aviation industry.
In 2021, Vietjet has operated nearly 42,000 flights across its network with more than 5.4 million passengers onboard. The airline has reported a revenue of VND2,954 billion (approx. US$130 million) in cargo transport, achieving fast growth with cargo revenue in particular rocketing by over 200% YoY.
Vietjet has worked to optimize the operating cost per flying hour and lower aircraft renting costs throughout the year. The airline has received support from the Government for the aviation sector including a 50% fee waiver for landing and taking-off, 50% fee waiver for environmental protection fee on aviation fuel until the end of 2022 and other discounts for airports fees and ground services rates.
In 2021, Vietjet has marked its 10th anniversary of its first flight (December 24, 2011-December 24, 2021). After 10 years, Vietjet has transported more than 110 million passengers, realizing its mission of developing a widespread flight network across the country, region and beyond. It has also brought about a breakthrough in air services, making airplane a popular means of transportation in Vietnam and the world.
Vietjet has also gained significant achievements in 2021 including retaining its place in the top 10 best and safest low-cost airlines in the world by AirlineRatings, a well-known website for airline safety and product rating review.
In term of strategic partnership, Vietjet has further cooperated with big international companies to grow its fleet and improve services, moving towards the future goal of becoming a multinational aviation group.
The airline in December 2021 has welcomes its first wide-body aircraft Airbus A330-300, getting ready for safe and eco-friendly middle and long-range flights which can go as far as 12,000 kilometers.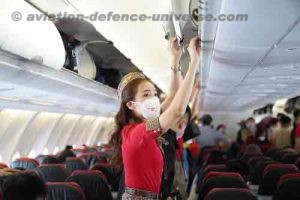 Joining hands to fight against the pandemic, Vietjet has transported tens of thousands of doctors, health staff, soldiers, police officers and disease prevention staff to their destinations of work, plus many more flights to deliver vaccines, medical equipment, and aid cargo. A Vietjet representative has said that the airline would keep going for digital transformation projects to introduce more added-value services like wireless internet, shopping, logistics, testing, health services, hotels etc. on Vietjet's website and application.
Meanwhile, the airline has also expanded its ground services and pilot training not only for its own but aiming to offer services to other airlines in the region. As Vietnam has fully opened to international flights with a robust development of tourism places and resorts nationwide, the aviation sector is deemed to recover and strongly grow again in 2022 and the coming years.