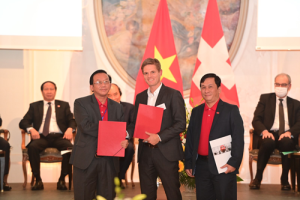 Bern, Switzerland. 26 November 2021. Vietjet and Swiss AviationSoftware (Swiss-AS), world's leading provider of aviation maintenance solutions based in Switzerland, today signed a strategic cooperation agreement to further extend Vietjet's adoption of Swiss-AS's maintenance and engineering solution AMOS to support Vietjet's fleet.
The event was witnessed by the President of Vietnam Nguyen Xuan Phuc, the President of the Swiss Confederation Guy Parmelin, high-ranking dignitaries and business representatives of both countries during the official visit of Vietnam President to Switzerland.
The two parties will extend their cooperation to cover various scopes, strengthening the existing long-term strategic partnership over the next ten years. Swiss-AS and its relevant subsidiaries will provide Vietjet the added platform of AMOS mobile/EXEC for aircraft technical management on mobile devices, thus allowing full automation and digitalization for Vietjet's engineers. In addition, Vietjet will use the system with more capacity and update other AMOS modules to better serve in-house management including automation of planning, aircraft scheduling and budget management, etc. Swiss-AS will also provide the AMOS "train the trainer" program for Vietjet with notable frequency and scale in the coming time.
Fabiano Faccoli, Chief Operating Officer of Swiss-AS, said: "It has been an honour for Swiss-AS to support Vietjet in its impressive growth over the last decade. Swiss-AS is looking forward to further strengthening the excellent partnership and, through its AMOS product suite and services, be instrumental in digitalizing Vietjet's Technical Operation. Swiss-AS shares Vietjet's customer-focused strategy and is keen to support Vietjet to further improve productivity and quality through innovation, technology and creativity."
Vietjet selected AMOS in 2012. With AMOS, Swiss-AS has supported Vietjet in fleet maintenance and optimisation for more than 90 aircraft with up to 1,150,000 hours of safe operation, with on-time performance reaching over 90% and technical reliability standing at 99.64%. Vietjet received the highest safety ranking of 7 stars by AirlineRatings and was hailed as one of top 10 safest and best low-cost airlines in the world in 2020.
Vietjet Managing Director Dinh Viet Phuong said: "We are very delighted as Vietjet and Swiss-AS further expand and leverage the cooperation to a long-term strategic partnership in the coming time. Our cooperation has been fruitful in the last ten years and technology development and technology applications in fleet operation and management has been the backbone of our growth strategy. I believe that the development and constant upgrade of AMOS will enhance Vietjet's capabilities in fleet operation and management, thus helping us serve our customers better while optimizing the airline's operational cost."
Vietjet has a comprehensive flight network in Vietnam and across Asia Pacific. Weathering through the pandemic, the airline has resumed its domestic network and operated a series of international flights from Vietnam while looking to further expand operation across continents in the near future. Vietjet is proud to operate a new, fuel efficient and modern fleet of 90 aircraft with technical reliability among top operators in the region and the world.