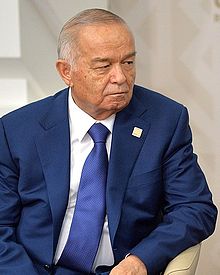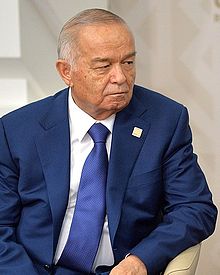 New Delhi. 03 September 2016. Islam Abduganiyevich Karimov the first and only President  of Uzbekistan died on 2nd September.
Karimov was born in Samarkand and was in and out of an orphanage from 1941 to 1945, growing up to study economics and engineering. He became an official in the Communist Party of the Soviet Union, becoming the party's First Secretary in Uzbekistan in 1989. On 24 March 1990 he became President of the Uzbek Soviet Socialist Republic. Karimov's election to the Uzbek Communist Party resulted after his predecessor Rafiq Nishonov failed to quell inter-ethnic clashes and instability in the Fergana Region.
He declared Uzbekistan an independent nation on 31 August 1991 and subsequently won its first presidential election on 29 December 1991, with 86% of the vote. International groups and opposition party cited voting irregularities, with state-run propaganda and a falsified vote count, although the opposing candidate and leader of the Erk Liberty Party, Muhammad Salih, had a chance to participate. Karimov permitted the participation of the opposition organizations Birlik ("Unity") and the Islamic Renaissance Party until his efforts to consolidate power over Shukrullo Mirsaidov, one of the former Communist Party elite who had originally supported Karimov's rise to the Party presidency.
On 29 August 2016 he was reported to be in intensive care, after suffering a stroke and died on 2 September.