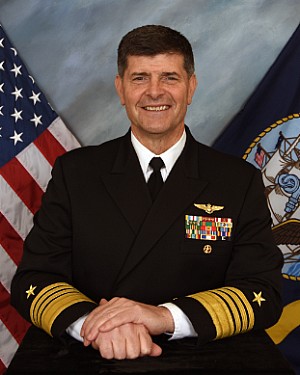 Washington DC. 11 April 2019. Acting Secretary of Defense Patrick M. Shanahan announced that the President has nominated Vice Chief of Naval Operations Adm. Bill Moran as the 32nd Chief of Naval Operations.
Senior Navy leaders were quick to praise President Donald Trump's nomination."I welcome the announcement by the White House on the nomination of Adm. Bill Moran, Vice Chief of Naval Operations, to serve as the next Chief of Naval Operations," said Secretary of the Navy Richard Spencer.
"Adm. Moran is an extraordinary leader who has been a stalwart partner and advisor," Spencer said. "I look forward to working with him in the years ahead when he is confirmed."
Adm. John Richardson, Chief of Naval Operations, said he is "thrilled with this announcement. Adm. Bill Moran is an amazing leader and good friend.
"He has been central to the Navy adopting a fighting stance in this great power competition," Richardson said. "As I turn over and go ashore, I will rest easy knowing that, pending confirmation, Adm. Moran has the watch."
In a statement after the announcement, Moran said, "I'm honored and deeply humbled by the nomination and look forward to working with Congress during the confirmation process."
As the Vice Chief of Naval Operations since May 31, 2016, Moran has worked to increase fleet readiness and personnel reform. "Warfighting readiness is solely about our commanding officers and their Sailors having confidence in this massive enterprise," Moran said during the keynote address at this year's Surface Navy Association. "We're restoring trust up and, most importantly, down the chain of command."
Anticipating the demands of the modern warfighter, Moran has made digital transformation a priority. He called it "as important to our future success as the transition from sail to steam was at the start of the 20th century or the harnessing of the atom for ship propulsion during the Cold War.
"Our ability to own the fight of the future rests in the power of our amazing people," he continued. "To build the Navy of tomorrow, to achieve that ready, fast and capable Navy, we have to challenge ourselves to think differently: placing our mission, our future and our purpose as American Sailors above all else."
Prior to becoming Vice Chief of Naval Operations, Moran served on the staff of the Chief of Naval Personnel Aug. 2, 2013 to May 31, 2016.
As a P-3 Orion pilot, Moran's early tours of duty spanned both coasts and included the Patrol Squadron (VP) 44 in Brunswick, Maine; Patrol Squadron (VP) 30 in Jacksonville, Florida; Patrol Reconnaissance Wing 2 in Hawaii, and Carrier Group 6 aboard USS Forrestal (CVA 59).
His major shore assignments include duty on the staffs of the Office of the Chief of Naval Operations and U.S. Indo-Pacific Command.
Moran, raised in Newburg, New York, graduated from the U.S. Naval Academy in 1981 with a bachelor's degree in Naval Science and earned a master's degree from the National War College in 2006.