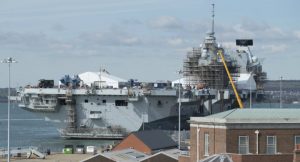 Arlington, Virginia. 08 August 2019. BAE Systems has been picked by the US Navy as a prime organization to upgrade new construction warships such as deck amphibious vessels, aircraft carriers, refuelling vessels, and complex overhaul ships. Under this indefinite-delivery/indefinite-quantity contract, BAE Systems will boost the maritime operations and flight safety systems of the US Navy's new ships.
"As a leading systems integrator, we continuously seek to broaden our support to the U.S. Navy to advance its C5ISR capabilities. We are working with our defense customers to innovate our approach to systems development to better meet their ever evolving mission requirements in alignment with construction and modernization priorities," told Mark Keeler, Vice-President and General Manager, Integrated Defense Solutions business at BAE Systems.
During an eight-year bidding period, the company along with two other contractors allowed to take part in new upcoming integration, engineering, assembly, testing, and installation-based work contracts. The work will be completed to supplement a variety of delivered systems that help network capabilities, communications, command and control, intelligence, and non-tactical data management.
The maximum work under the contract will be performed near the US Navy's Test and Integration Facility Complex, which is also known as the C4I-System Innovation Facility, located at Naval Information Warfare Centre Atlantic in Charleston, South Carolina. Further tasks are planned for shipyards in Pascagoula(Mississippi), Newport News (Virginia), and Norfolk (Virginia).