Government last month approved Rs.25,000 crores package for Police Modernization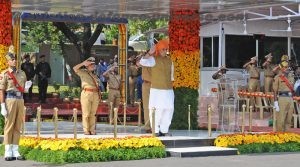 Hyderabad. 30 October 2017. The Union Home Minister Rajnath Singh today asked the young police officers to brace themselves up for terrorist threats emerging from the cyber world. Addressing the Passing Out Parade of IPS Probationers at the Sardar Vallabhbhai Patel National Police Academy (SVPNPA) in Hyderabad, Rajnath Singh said the world is today grappling with the menace of terrorism and extremism; internet is being used by organisations like the ISIS to spread hate. We are not untouched by this menace, he added.
The Union Home Minister, however, expressed satisfaction, saying our Intelligence and Security Agencies have been successful in countering these sinister designs. Central Government is all committed to strengthen the security structure of the country. He said we know that State Police Forces need Central Government help to tackle the present problems and all that might arise in future. We need to work towards Modernisation of Police Forces. Keeping this in mind our Government last month approved a Rs.25,000 crores package for Police Modernization, he added.
Rajnath Singh said we will have to find a permanent solution for problems like terrorism and extremism. We are working towards that direction. In next five years we have to eliminate extremism, terrorism and communalism from the nation, he added.
Paying rich tributes to Sardar Patel, Rajnath Singh said the National Police Academy (NPA) reminds us of Sardar Patel's love for the country and his commitment and dedication towards nation building. The foundation of national integration that Sardar Patel laid after Independence will continue to inspire us. Political Map of today's India is the result of Sardar Patel's effort. Sardar Patel was the architect of All-India Services which was meant to ensure integrity and unity of India; Indian Police Service is an integral part of it. All India Services not only provided a unified administrative structure but also helped in keeping the unity and integrity of India intact. Tomorrowis Sardar Patel's Birth Anniversary. Let us bow to the leader who was the main force behind unified India, he added.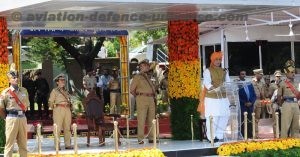 Encouraging the young Police Officers, the Union Home Minister said the police should not be a brute force but it should be a civilised force. As young police officials you all can be role models for youth. And I believe that your hard work will play a major role in this.
Addressing the newly inducted IPS Officers, Rajnath Singh said that in the initial years of your career, you all will work closely with the public. You will find that people have great expectation from police officials. The police service will provide you an ocean of opportunities. You will have to maintain professional and intellectual integrity while serving for the country.
Rajnath Singh said that the people will come to you not for sympathy but empathy. You should maintain good conduct and behaviour during your service. To meet these expectations will be a challenge as well as a responsibility and opportunity too. Positive attitude and decisiveness will also play an important role in your working. While taking a decision, officials should always ask this question whether it is in favour of justice or not. I have seen that the officials possessing these qualities are respected by politicians and all sections of society. Honesty and Integrity should be most important for all of you. Never compromise with it. Hard work, positive attitude, honesty and justice along with right decision making are the four attributes that I want to dedicate to you. These qualities help you in building your reputation and this is your biggest capital, he added.
The Union Home Minister said India is ambitious but its aspirations have a strong cultural base. Rajnath Singh said we all are contributing in making of the New India and you all have to be very important part of it.
Rajnath Singh also announced the grant of Rs.5 Crore for Sardar Vallabhbhai Patel National Police Academy Welfare Fund from the Home Ministry Welfare Fund. On the occasion, the Union Home Minister inaugurated the new Library Complex of the NPA and took salute of an immaculately turned out Parade. He also presented trophies and medals.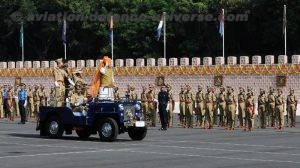 Congratulating the medal winners,  Rajnath Singh said the biggest medal which you all can win will be the appreciation of your colleagues and the public.
136 Officer Trainees including five each from Bhutan and Nepal and four from Maldives completed 45 weeks of basic training at the NPA. The batch comprised of 22 Women Officers. Director, SVPNPA, Ms. D. R. Doley Barman, Executive Director, Nepal Police Academy, Additional Inspector General of Police  Devendra Subedi, Col. Rinzin Dorji of Royal Bhutan Police and Ali Sujau, ACP of Maldivian Police Force and Senior and Retired Police Officers were present.