Ulan-Ude. 12 September 2020. The Ulan-Ude Aviation Plant of the Russian Helicopters has launched a certified process simulation facility in its premises. The facility works as a platform for interactive training by the principles of lean production, and was created at the enterprise as part of the Russian governmental project for improving labor productivity and employment.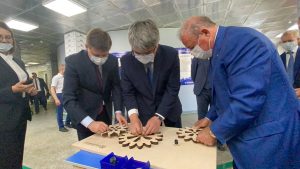 "Factory specialists were the first in the region to receive certificates and the right to train employees of enterprises participating in the Labor Productivity and Employment program." Opening of the process simulation facility at U-UAP was an result of effective interaction between the Ministry of Economy of the Republic of Buryatia and the Russian Federal Center of Competences in Labor Efficiency, which provided methodological assistance in its creation", – pointed out the Managing Director of JSC U-UAP Leonid Belykh.
The training platform allows to conduct interactive workshop training for employees. The facility reproduces a real mechanical engineering production chain and simulates real production processes.
The training format consists of eight-hour business game, in which a team of 15 people gets acquainted with methods for identifying losses and determining reserves in workflow optimisation. Its unique format allows the process simulation facility to quickly teach crucial skills associated with the lean production approach.
The simulator provides an opportunity to consciously apply lean production tools to increase labor productivity, gain practical experience and knowledge about improvements in the production process that can affect the operational and economic performance of an enterprise.
Modern enterprises are not only interested in maintaining the already achieved level of production, but also strive for increasing its efficiency. The certified trainers of the simulator are tasked to teach the employees to speed up their workflow processes and, in doing so, augment the potential of their department, workshop or factory.