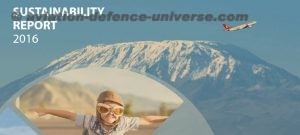 Turkish Airlines, which  is flying to the most countries in the world, operating with a strong sense of environmental and social responsibility for Turkey and  the communities at our flight destinations in 120 countries, has released its third sustainability report, which was prepared in accordance with the "core" option of the Global Reporting Initiative (GRI) G4 Sustainability Reporting Guidelines. Sustainability agenda of the global carrier comprises of four pillars, each of which includes a number of material aspects, namely Governance, Economy, Environment and Social. 2016 Sustainability Report can be reached via the link below. 
Turkish Airlines 2015 Sustainability Report was awarded the Gold Award in the sustainability report category in the 2016 the League of American Communications Professionals (LACP) Spotlight Awards-Global Communication Competition, which is considered one of the world's most distinguished global communication competitions.
Turkish Airlines, strongly committed to contributing to sustainable development by conducting its business in a socially, economically and environmentally responsible manner has been qualified to be listed in BIST Sustainability Index, which includes  companies traded at Borsa İstanbul that boast high level corporate sustainability performances, for the period of November 2017-October 2018. Turkish Airlines was listed in this Index for the past two years as well, with its sustainability practices and policies. 
            In order to protect the environment and to combat climate change, which is one of the most challenging global problems, Turkish Airlines, has undertaken wide range of initiatives to increase fuel efficiency and reduce carbon footprint associated with its operations. Hence, Turkish Airlines flies 20% more efficiently compared to 9 years ago as a result of these fuel efficiency initiatives. Thanks to various fuel savings projects implemented, Turkish Airlines continues to reduce its carbon footprint. 43,975 tons of fuel have been saved which corresponds to a reduction of 138,522 tons of CO2 by the end of 2016. In total, 1,329,783 tons of CO2 have been reduced since 2008. 
In order to leave a more habitable world to the future generations, Turkish Airlines carried out its 'Fuel Saving Project' in 2008, which has been winning general approval both in national and international evaluations. The International Council on Clean Transportation (ICCT) released a report comparing the fuel efficiency, and therefore the carbon intensity, of the top 20 airlines on transatlantic routes between the United States/Canada and Europe and Turkish Airlines ranked as fourth place in the Transatlantic Airline Fuel Efficiency Ranking. Besides, the success of Turkish Airlines' Fuel Saving Project is also being awarded across the country. In 2016, Turkish Airlines was awarded "Low Carbon Hero" at the 3rd Carbon Summit, hosted by Istanbul Technical University. Turkish Airlines has also won the big award in the 'Carbon and Energy Management' category under the scope of 2017 Sustainable Business Awards, which is organized by the Sustainability Academy. 
Turkish Airlines, having one of the youngest fleet in the world, is planning to maintain its leading position in fleet age, meet its targets not only on carbon emission reduction, but also on noise and air quality, with the addition of new generation Airbus and Boeing aircraft that are more fuel efficient and which will have been delivered by 2023.
Strived to minimizing, to the greatest possible extent, the adverse impacts of its operations on the environment and taking measures to combat climate change, Turkish Airlines is targeting to continue its operations and plan future travels with a strong sense of environmental and social responsibility for our country and our world.