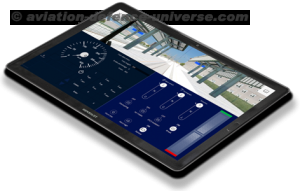 Berlin, 27 September 2019 – HENSOLDT, the leading independent sensor solutions provider, will present its Simsphere ETCS at the Railway Forum in Berlin next week. The mobile training and simulation solution will be used for training train drivers in the European Train Control System (ETCS) and can in future be downloaded as an app.
"With our app on an Android tablet, train drivers will in the future be provided with basic and advanced training in the various aspects of the European Train Control System," explained Stephan Schäfer, Head of Simulation at HENSOLDT. "Our app enables the user to get to know the training material on the move and also provides a reference search so that problems can be solved quickly."
First of all, the theoretical principles of the training session are explained to the user. In order to interactively convey this, the user then virtually travels a stretch of the track – similar to a video game – and reacts as if he or she were driving a real train. In this way, the user can get to know the signal system and increase his or her knowledge. With this app, the train drivers learn by experiencing the workflows of a train journey under close-to-real conditions and are able to review the content after their training session in order to consolidate the knowledge they have acquired.
"There is no solution like ours on the market," commented Stephan Schäfer. The current focal point of further development is on Europe and the European languages. However, thanks to the modular structure of the app, it is possible to program it in every language imaginable and to integrate relevant content in accordance with the customer's wishes. If necessary, the system can also be configured for iOS and Windows operating systems.
When presenting the ETCS tablet to experts from the sector, HENSOLDT will be launching a new member of its Simsphere family of simulators. The name Simsphere is a combination of the words simulation and sphere, which means that it stands for the use of simulation for learning complex training material. This type of training could otherwise only be done at an extremely high cost and at a high risk to the trainees and the material used.
With Simsphere, realistic scenarios can be simulated and practised in a safe environment and in a cost-effective way. Simsphere ETCS is a logical supplement to HENSOLDT's Simsphere Train Simulator, but can also be used separately.