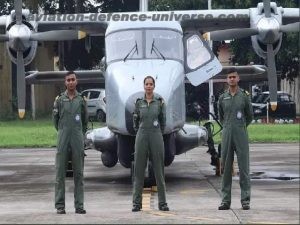 New Delhi. 24 No ember 2019. The Indian Navy is going to get the first female pilot. Lieutenant Shivangi will join as the first female pilot in December 2019. Shivangi will be flying the fixed-wing Dornier surveillance aircraft. She will be involved in her operational duties in Kochi.
Lieutenant Shivangi is from Muzaffarpur in Bihar. She has done her studies from DAV Public School. After completing school education, Lieutenant Shivangi did B.Tech from Sikkim Manipal Institute of Technology.
Joined Navy as SAC Pilot
Shivangi was included as a SAC (Pilot) under the 27 NOC course at the Indian Naval Academy. She was formally made part of the Navy by Vice Admiral AK Chawla in June last year. Now Shivangi will fly surveillance aircraft. These surveillance aircraft are sent on short-range maritime missions. There are many devices like advanced surveillance radars, electronic sensors and networking are equipped on these aircraft. The Navy's aviation wing has several women officers posted as air traffic controllers and observers. Shivangi is undergoing training in Southern Command and will be allowed to fly Dornier aircraft on December 2.