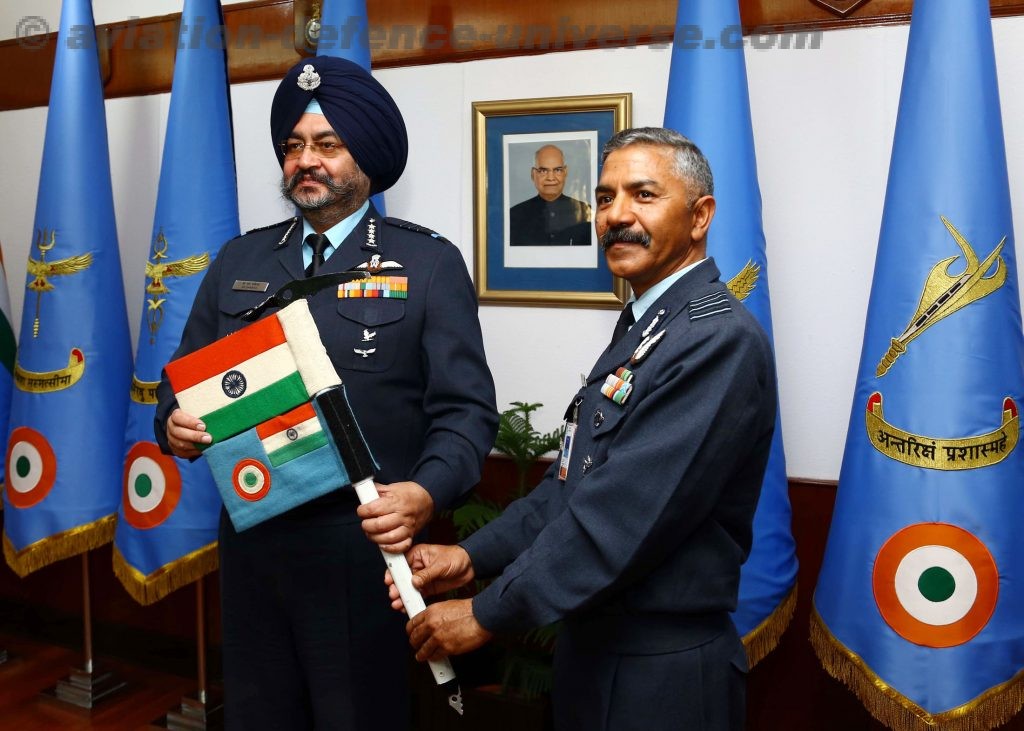 New Delhi. 31 December 2018. Exercises, HDR operations , procurements, make in India, women fighter pilots and political controversies made 2018 interesting for the Indian Air Force.
Acquisition
Rafale: Rafale is an omni-role fighter aircraft which will provide long range capability to engage targets in depth and will provide a strong weapons and systems capability edge over our adversaries. The weapon package includes air-to-air Beyond Visual Range (BVR) METEOR missile and long range SCALP precision guided air-to-ground weapon. In addition, the Rafale for IAF has specific enhancements, including capability for high altitude engine start for undertaking high altitude operations.
Hercules C-130J-30: C-130J is a medium sized, all weather transport aircraft capable of inter theatre and intra theatre airlift operations. It is capable of delivering combat troops/personnel or cargo by airdrop or air-landed operations. IAF has also enhanced the night operational capability of the aircraft by procuring latest generation Night Vision Goggles.
Chinook Heavy Lift Helicopters: Fifteen Chinook Heavy Lift Helicopters will be delivered to the IAF from March 2019 onwards. A team of aircrew and ground crew have commenced training on the Chinook in USA.
Upgrades
Mirage-2000 Upgrade:Upgrade of Mirage-2000 aircraft is being undertaken by Hindustan Aeronautics Limited (HAL). The upgrade programme includes a new, more powerful upgraded radar, new avionics suite and integration of weapons. The upgrade was undertaken in two phases. Initial Operation Clearance (IOC) Design and Development (D&D), was completed at OEM facilities' in France and the Final Operational Clearance (FOC) D&D was completed in March 2018.
MiG-29 Upgrade:The MiG-29 Upgrade Contract was signed with the OEM for upgrade and life extension of MiG-29 aircraft. The first phase of the project was Design & Development (D&D), which was completed on six aircraft in Russia. The second phase was Series Upgrade of the remaining aircraft at the Base Repair Depot of the Indian Air Force. The upgraded aircraft are now being used for routine operations in frontline squadrons. The upgraded aircraft is equipped with state of the art avionics, an array of smart air-to-air and air-to-ground weapons and in-flight refuelling.
UAV Upgrade: A combined case for upgrade of Heron UAV systems for three Services (IAF-10) is in progress and IAF is the lead service. Identification of Friend or Foe and Traffic Collision Avoidance System are some features that will be part of the upgrade. Contract negotiations have been concluded.
Operations
Aircraft Accident Rates: The annual aircraft accident rates, calculated as number of Cat I accidents per 10,000 hours of flying during the financial year, have shown a progressive decline over the years.
Cat I accident rates observed over past forty eight years are as follows:
Flying Effort: There has been an increase in flying effort and reduction of accident rate, which indicates proactive safety measures undertaken by the IAF.
Financial year wise flying efforts by IAF for the past ten financial years are as follows:
Make Projects
AEW&C (Indigenous):The Cabinet Committee on Security (CCS) sanctioned the Airborne Early Warning and Control (AEW&C) Project on October 06, 2004. Centre for Airborne Systems (CABS) was designated as nodal agency to indigenously design and develop operational AEW&C systems for IAF. The AEW&C System is a system of systems consisting of Primary Radar (PR), Secondary Surveillance Radar (SSR), Electronic Support Measures (ESM) system, and Communication Support Measures (CSM) system, Self-Protection Suits (SPS), Mission Communication System (MCS) and Data Links on board Embraer-145 aircraft. The aircraft is capable of air-to-air refuelling for achieving extended endurance.
AWACS (India): Airborne Warning and Control System (AWACS-India) consists of sensors mounted on atransport aircraft for locating airborne and sea surface targets and picking up hostile emissions. The aircraft sensors provide comprehensive information to the onboard mission controllers and ground stations through a sophisticated communication data link. The system provides advance warning for approaching low flying hostile targets.
Exercise
Ex Gagan Shakti: IAF conducted PAN India Exercise Gaganshakti 2018 between April 08-22, 2018. The aim of the exercise was real time coordination and employment of air power in a short and intense battle scenario. A major highlight of the exercise was a very high availability and reliability of all combat assets including aircraft, missile systems and radars. High tempo operations also enabled the IAF to ascertain sustainability of the logistics chain.
Ex Pitch Black-2018(OUT EX): Ex Pitch Black (Ex PB) is a biennial exercise conducted by Royal Australian Air Force. Ex PB-18 was the inaugural exercise for IAF conducted from Jul 19 to August 18, 2018, at Darwin, Australia. IAF participated with 04 x Su-30MKI, 01 x C-17 and 01 x C-130J aircraft along with 145 IAF personnel. Hop exercise was conducted at Subang, Malaysia during the transit to Malaysia.
International Army Games-2018 (OUT EX): Two observers (each) represented IAF in "UAV Competition" at Kazakhstan from 06-08 Aug 18 and in "Ex Aviadarts (Air to Ground firing competition)" at Russia from August 03-04, 2018.
Ex Aviaindra-2018 [Phase-I (IN Ex) & Phase-II (OUT Ex)]: The exercise was planned in two phases. Phase-II was held at Lipetsk, Russia between September 17-28, 2018 and Phase-I was held at Jodhpur, India from December 10-21, 2018. Russian IAF participated with 30 members during the exercise.
Ex Cope India-18: United States Air Force and Indian Air Force participated in an exercise, 'Cope India'. It was conducted at Kalaikunda and Panagarh from December 03-14 18. USAF participated with 12X F15 C/D and 03XC-130. Observers from Japan Air Self Defence Force also participated in the exercise.
HADR
HADR Seminar: HQ Western Air Command conducted a seminar on Human Assistance and Disaster Relief (HADR) in May 2018. It was attended by representatives of the Army, HQ Integrated Defence Staff and State Disaster Management Authorities of J&K, HP, Punjab, Rajasthan, Uttarakhand and Delhi.
Annual Jt HADR Exercise: Based on the directions of Prime Minister, Annual Jt HADR exercise was conducted at Allahabad between September 25-26, 2018. Scenario of earthquake along Dehradun, Bareilly and Gorakhpur axis was simulated as part of the exercise. The exercise was conducted by IAF and various agencies involved in HADR operations including NDMA, NDRF, state govt and other civil agencies till the municipal level participated in the exercise.
Flash Floods Maharashtra: On 07 Jul 18, helicopter undertook rescue of five stranded civilians near Chinchoti waterfall in Palghar, Maharashtra.
Flood Relief in Kerala: IAF launched rescue and relief operations after the devastating floods in Aug 2018. Fortyseven aircraft (05xC-17, 03xIL-76, 05xC-130 and 10xAn-32 and 24 helicopters) took part in the rescue and relief operations in Kerala. During the HADR mission, IAF ac airlifted 4,209 passengers and 1,554 T of load and flew 1,121 sorties and 1404 hrs.
Publicity Efforts
Maintenance of Career Website: IAF maintains a career website www.careerindianairforce.cdac.in, whichcontains all the induction and selection related information. The website is used for online registration and conduct of online examination. Information regarding various stages of selection process i.e., from releasing of advertisement to final merit lists are upgraded regularly on the website.
Print Advertisement: Advertisement for all the entries is released in Employment News, various magazines and also as newspaper advertisement in vernacular language on pan India basis.
Training
e-Training. In line with Digital India initiative of Government of India, IAF has taken a lead to bring about a paradigm change in the present training methodology for ab-initio air-warriors. Towards this, a pilot e-training project was introduced for 400 ab-initio trainees of Elect fit trade at Electrical and Instrumentation Training Institute (E & ITI) at Air Force Station Jalahalli, Bengaluru. Trainees and instructors were provided with 'tablets', integrated through a wireless network. Users are able to refer to training material loaded into a central server at their own place, within the Wi-Fi coverage area of the unit. The Pilot Project (Phase I) to implement e-training has proven to be very successful and is planned to be implemented at all training establishments and training institutes.
Women Empowerment
Induction of Women Pilots in the Fighter Stream. The IAF has been at the vanguard of providing greater opportunities to women and has pioneered the entry of women as officers in the flying and ground duty branches. Since 1993, women are being inducted as Short Service Commissioned officers in all branches and streams of the IAF except the fighter stream. The IAF has recently revised Short Service Commission (SSC) scheme to induct women into the fighter stream on an experimental basis for a period of five years. The first batch of three women officers were commissioned into the fighter stream in 2016. These three women fighter pilots are posted to frontline fighter squadrons.
Miscellaneous
Vintage Flight. IAF maintain and operates Tiger Moth, Harvard and Dakota vintage aircraft. These aircraft represent an important part of Indian aviation and IAF heritage. These aircraft are presently operating in IAF colours and have regaled audiences all over the country, as they have been an integral part of most flypasts and air displays of National importance. Their presence over Indian skies serves to remind Indian Citizens of our rich aviation heritage and motivates countless youngsters to become a part of the IAF.
ATF Online Payment. CDA (AF) has started releasing payment online to M/s IOCL against the ATF bills received through 'ATF DIP' (OJAS) software and the same has been successfully implemented by IAF.