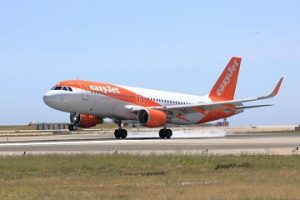 Thales/ACSS Terrain Collision Avoidance System, T3CAS Mode S selected by easyJet for its A320 NEOs/CEOs
On the opening day of the Farnborough Airshow 2016 Thales announces that easyJet has selected the Thales/ACSS T3CAS – Terrain Collision Avoidance System – surveillance solution on their A320 NEO and CEO aircraft.
easyJet, Europe's leading airline, has 130 A320 NEO and 6 Airbus A320 CEO on order, and will equip these aircraft with the T3CAS integrated surveillance solution. Due to its considerable weight and space saving as well as its low power consumption the T3CAS has a true competitive advantage for fuel consumption cost savings.
With T3CAS, easyJet will benefit from the system's unique performance based Terrain Avoidance Warning System, an all-in-one surveillance platform that includes collision avoidance, terrain avoidance and transponder.
Compliant to all upcoming worldwide mandates including ADS-B OUT and IN as well as Runway Overrun Protection, T3CAS is the Airbus standard choice for Surveillance on all A320 family aircraft.
Key Points
easyJet will equip a total of 136 A320 NEO and CEOs with the T3CAS surveillance platform
With reduced weight and lower power consumption the T3CAS brings significant fuel consumption and cost savings to Europe's leading airline