Paris, Le Bourget. 21 June 2019. Thales will provide Geneva Airport with a supervision platform for its Airport Operation Center by 2020.With 17.7 million passengers in 2018, and connections to 148 destinations operated by 57 airlines; Geneva Airport is taking steps to modernize its operations by centralizing supervision and improving situational awareness.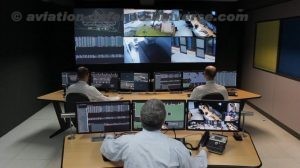 Today's international hubs are comparable to small cities that can sometimes stretch for miles and represent significant challenges for operations and security. International hubs must meet rigorous standards of security while ensuring the continuity of their activities under any circumstances. Geneva Airport is no exception to the rule this Swiss airport is committed to improving the supervision of its infrastructure and its operational processes.
To support the airport in meeting this challenge, Thales has been awarded a contract to provide the airport by 2020 with a modern supervision platform for its Airport Operation Center that will help operators to improve situational awareness and detect events and irregularities in real-time in order to enhance operational efficiency and the passenger experience.
Thales will provide Geneva Airport with its AiRISE Share View solution, a complete, scalable and innovative supervision platform designed to master the complexity of centralized airport operations management which requires successful collaboration between multiple stakeholders.
In our connected world, with the proliferation of information sources and sensors, including connected devices, operators also face a tremendous increase in the volume of data they have to treat and analyse. Thales 'platform will gather this large amount of data from several operational systems, and by providing a broad, accurate and reliable view of the real-time situation to all stakeholders, will enable them to react more effectively to unplanned operational events.

"A trusted partner for modern international airports, Thales will be putting all its expertise in smart airport solutions at the service of Geneva Airport. We believe that today's success in operations management lies in the use of cutting-edge technologies that enable operators to monitor every square meter of the airport, optimise its overall performance and make faster, more informed and truly data-driven decisions."
Marc Darmon, Executive Vice-President, Secure Communications and Information Systems, Thales