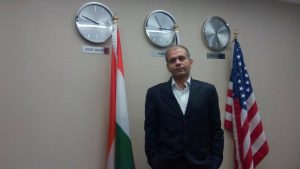 "India is not only a market for our products but also a place where you can get the right talent. We have an outstanding engineering and technology centre in Bangalore. Indian engineers are engaged in cutting edge work in the field of helicopters,  fixed wing aircrafts etc. We are excited about the Indian talent pool,"said Arijit Ghosh, President and Managing Director of Textron India, in an exclusive interview to Aviation & Defence Universe(ADU).
ADU. What is your vision for Textron now that you are at the helm of its affairs?
AG.
Textron has five business units : (1) Bell Helicopter, (2) Textron Aviation, whose products include Cessna business jets and Beechcraft turboprops as well as military trainers, (3) Textron Systems, which is primarily into defense, but also offers aircraft simulators for training,  (4) Industrials, whose portfolio includes Golf cart, utility vehicles, off road vehicles, turf maintenance equipment, airport ground support equipment, automotive fuel systems etc. and (5) Textron Financials. It is a diversified
conglomerate in true sense.  Just to give you an idea of the breadth of the product line, I would say that on one hand,  we are working on a jet called Scorpion, which would be  one of the most affordable combat aircraft in the world, while on the other side of the house, our EZ Go golf-cart and Ransomes & Jacobsen turf maintenance equipment are best in class;  Klauke is a leading brand of electrical tools, TRU makes flight simulators, Kautex makes blow-molded fuel tanks for automobiles and has a factory near Ahmedabad, Gujarat. . Our customers range from Government to private companies,  mostly B 2B.
Because we are present in multiple sectors, we are well diversified. We are witnessing all round economic growth in India. We are very well positioned to benefit from this as we will be able to offer products and services that are best in class with unparallel value proposition to Indian customers..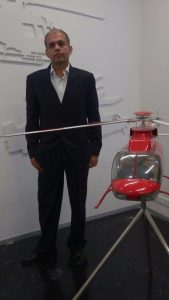 ADU.  Please elaborate on the current Textron products already in use by the Indian armed forces.
AG. Textron is currently integrating its Sensor Fuze Weapon on the Jaguar Fleet of the Indian Air Force. In addition, Textron is actively engaged in several military and Para Military Forces opportunities. Textron Systems vide array of products including Tactical and small UAS, Armored Vehicles and Landing Craft Air Cushion (LCAC)are also very well positioned to meet Indian Military's requirement.
 ADU. What is the level of interaction Textron has with  Central Armed Police Forces and Ministry of Home Affairs for internal security requirements?
AG. Textron is actively engaged in several Central Armed Police Forces and Ministry of Home Affairs opportunities. We work closely with our customers to better understand their requirements and offer customized solutions. We believe we have some excellent products in our portfolio which could meet Central Police Forces requirement.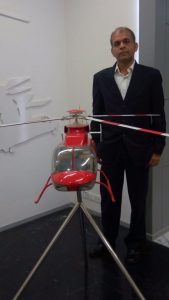 ADU. What are the products that Textron Systems has to offer for the  internal security needs of India?
AG. Textron's Micro Observer (MO) unattended Ground Sensors (UGS), Aerosonde UAS and Spider smart munitions system are excellent products that could meet the internal security requirements of India. In addition, our Shadow UAS is one the world's best Tactical UAS that could also find merit in some of the security environment.
ADU.  What are the unmanned systems you feel will match India's current requirement?
AG. Our Aerosonde UAS with a 14 hours plus endurance which is both ship and land launched capable is an excellent product to meet Indian Navy's and Para Military Forces requirement. In addition, Shadow UAS has flown more than 1 million hours and is the most reliable product to meet Indian Army's and Indian Air Force Tactical UAS requirement.
ADU.  How is your development centre in Bengaluru progressing?
AG. The engineering centre started more than 10 years ago and since then we have ramped it up. The engineering ecosystem in Bangalore is well developed and we have access to the good talents. Our engineers work in core design and engineering area. Really it's a winning proposition for both engineers as well as for Textron.

ADU.  How is Textron foraying into the geospatial market of India?
AG. Textron Systems Geospatial Systems has a wide array of products to meet the varied requirements of Indian security forces. Our products are very well respected by our customers globally and our ability to customize them makes them very suitable for Indian market. We are hopeful that many of our Geospatial products will help Indian armed forces bridge capability gap as our products are well tested, proven and preferred by several global security agencies.
ADU.  What do you expect out of Aero India 2017?
AG.
Aero India presents  an opportunity to show case our products and technologies to potential customers in India. This is the premier defense focused Air show of the region and we are thankful for the opportunity to participate in it.