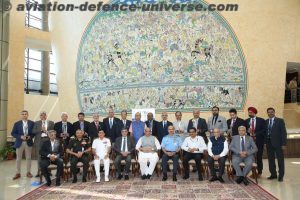 New Delhi. 29 September 2022. The award was part of the SIDM Champion Awards in the category of "Import Substitution." 29 th September 2022, New Delhi – Taural India, a leading aluminium casting solutions provider in India, announced today that it was named the winner of the 'Special Jury Award – Import Substitution" at the 5 th Annual Session of the Society of Indian Defence Manufacturers (SIDM) event.
The award was conferred by Mr. Rajnath Singh, Hon'ble Defence Minister, the Chief Guest at the Annual Session, and felicitated the winners of the 2nd edition of the SIDM Champions Award.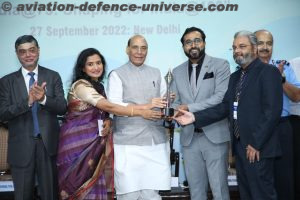 The Annual Session witnessed participation from the top leadership of the Ministry of Defence, Indian Armed Forces, Industry & Bharat Gite Foreign Defence Attachés based in India. "This award is a testimony to our dedicated efforts towards making India self-reliant in Aluminium Manufacturing, Supply Chain, and Defence capabilities," said Founder & CEOm Bharat Gite. "We are proud of our zero compromise quality benchmarks against the best in fthe world and creating a real impact on the ground and for the nation!"
The theme of the Session – "[email protected]: Shaping for [email protected]," was conceptualized to position India as one of the top countries in defence manufacturing, meeting the requirements of not just its own Armed Forces but of our Friendly Foreign Countries as well. The Defence Minister, while commending the growth of SIDM, stated that in just five years of its inception, about 500 members had joined the association, which is an indicator of the progress of the Indian defence industry.