To showcase India's First Indigenous Wheeled Armoured Amphibious Infantry Combat Vehicles
Supplied over 1.5 Lakh vehicles to the Indian Military, Para-military Forces and State Police forces till now
Is the only Asian Company to offer a full range of wheeled Defence vehicles, including a combat range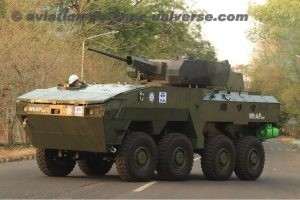 Present across the Military Spectrum producing all categories of vehicles including – Light Mobility, Mobility, Utility, Platforms, Engineering, Special Mission, Armoured, Command Posts, NBC and ICVsPune. 18 September 2018. Tata Motors is showcasing its two flagship vehicles that have substantial export potential at the BIMSTEC Nations Summit 2018 in Pune. The vehicles that will be exhibited to the Army Chiefs and nearly 400 plus army officers from BIMSTEC Nations include the Tata 4X4 Mine Protected Vehicle (MPV) and the WhAP8x8 ICV (CO developed with the DRDO). It demonstrates Tata Motors expertise in the combat range and its commitment to the "Make-In-India For Defence" policy of the Government of India.
Tata Motors have recently signed major military vehicle supply contracts with BIMSTEC Nations in that include Tata Xenon GS 800 to Myanmar, Tata Mine Protected Vehicles for UNIFIL, MONUSCO & MALI Missions, Tata 2.5T GS LPTA 715 4×4 to Myanmar and Thailand, Tata 5T GS LPTA 1628 4×4 to Nepal and Mission specific logistic vehicles for UN Peacekeeping missions sent by these Nations.
Commenting on the occasion, Mr. Vernon Noronha, Vice President, Defence & Government Business, Tata Motors Limited said, "Our defence mobility portfolio has grown from strength to strength, offering a range of combat, armoured, combat support & logistics vehicles that have been popular in supporting the military, paramilitary & police forces in their multifarious operations. Our International customers are aware that Tata military vehicles in use by the Indian Armed Forces are inducted by them, only after grueling pre-purchase testing (spread over years in different terrain and climate conditions) to exacting military standards. This also helps Tata Motors build confidence with foreign militaries on durability and maintainability aspects."
"Our products on display – Tata 4X4 Mine Protected Vehicle (MPV) and the WhAP 8×8 Infantry Combat Vehicle is a validation of our truly indigenous expertise to offer mobility solutions for counter insurgency and combat operations of Security forces in India and abroad", he further added.
Tata Motors flagship product WhAP8x8 (Wheeled Armoured Amphibious Platform) is India's First Infantry Combat Vehicle, designed for optimised survivability, all-terrain performance and increased lethality – Jointly developed with the Indian Defence Research and Development Organisation (DRDO). Tata Motors is the first private sector OEM in India to have developed a WhAP in a record period of 18 months. It is a fully loaded vehicle with safety features such as Blast protection, Ballistic Protection and NBC protection. Modulatory and Scalability features, helps this vehicle to be easily modified to cater to various terrain condition and missions. A low maintenance vehicle, with a seating capacity of 10+2 people, the WhAP8x8 comes in various variants such as Armoured Fighting vehicles, CBRN vehicle, Recce & Support vehicle, Medical Evacuation vehicle, Engineer Squad vehicle, Mortar Carrier, Commander's vehicle and Anti-Tank Guided Missile vehicle.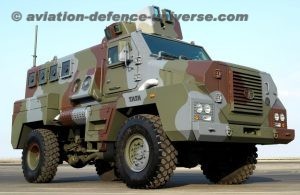 Mine Protected Vehicle (MPV) with 4×4 Configuration, is developed to serve as a mine-proof troop transport vehicle, a law enforcement special response vehicle used to counter insurgency, or an escort protection vehicle. The vehicle comes with best-in-class ground clearance for enhanced cross country mobility. The high power to weight ratio gives enhanced acceleration and maximum speed for quicker response during emergency situation.
Tata Motors has been a partner to the Indian Armed Forces since 1958, having supplied over 1.5 lakh vehicles to the Indian Military, Paramilitary forces and Police Establishments. In addition, Tata Motors is also a leading supplier of defence solutions to SAARC, ASEAN and African regions. The company has also established itself as a supplier of specialist vehicles for UN peacekeeping missions