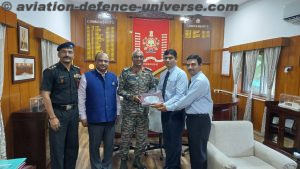 New Delhi. 28 September 2023. Under the guidance of HQ CGDA New Delhi and able leadership of Dr. Rajeev Chavan IDAS ndc Principal Controller (Southern Command, ) Pune PAO (Guards) Kamptee carried out a Special drive w.e.f  4th Sept. to 24th Sept. 2023, to clear the outstanding dues & payment related personal grievances of Army jawans
During this drive, the office achieved the desired target & goal of redressing grievances & paying the old outstanding dues of around 10000 soldiers, with disbursement of Rs.17.50 crores.showing outstanding since 2018.
This is but a part of the exercise to clear cleanse and clean the backlog of pendency in the fortnight of SWACHTHA ABHIYAN  ( GOI ).
At the culmination of this special exercise of cleansing business the special task force constituted locally having 4 SAO/ 5 AAO s ably supervised and led by the incharge Shri Kuruvilla IDAS ACDA PAO GRC Kamptee were successful.
Dr. Dale Mahesh Bhagwat, IDAS, Addl. CDA, I/c PAO (Arty), Nasik and Sh. Vikram Rajapure, IDAS, DCDA along with Sh. Rajeev Kuruvilla, IDAS, ACDA Office In-charge PAO (Guards) Kamptee apprised the outcomes and deliverables of the Special drive to the Commandant of The Guards Brigade Regimental Centre, Brig. K Anand on 25th Sep 2023.
Brig. K Anand appreciated the initiative taken up by the Defence Accounts Dept. New Delhi and herculean sincere efforts put in by PAO Kamptee Team for redressing the old long outstanding dues & personal pay and allowance related grievances of the Army jawans numbering 19000 lying unattended since 2018 . He also emphasized the need to have synergy between Army Unit,  PAO & Record office, for facilitating payment of payment of all 89 Pay and Allowances  of Soldiers on the nominal roll of Guards Regimental Centre. He extended his applause to all involved in this benevolent act and Deed
The officer also discussed certain other issue related to regular review of Service books its audit and maintenance/ updatiion. He suggested ways and means to put across in use so as to avoid unwarranted accumulation of dues & avoid recoveries at the time of retirement, which is painful to do so.
Prompt publishing of all casualties events activities relating to the soldiers life in the service or work book is the panacea to all the ailing ills of the payroll system which is operation at the pay and account office in Kamptee.
He lauded the efforts of DAD in general and CDA secundrabad and its ITDC centre in particular for revising the software payroll application.
DOLPHIN 2.0 in Java and putting it into use thus digitalising the payment process of pay packets and fulfilling the obligation of meeting abiding the Digital India programme and a step towards achieving the e office framework.
At last after exchange of pleasantry as a token of goodwill, Dr. Mahesh Dale Adll Controller Nasik presented the memento of PCDA (SC ) on behalf of Principal Controller Pune to    Brig. K Anand. Commandant Guards Regimental Centre Kamptee