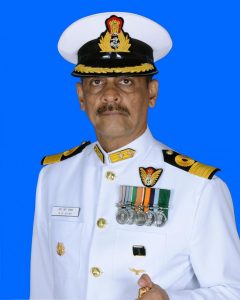 Kochi. 27 January 2020. A Ceremonial Parade of the Southern Naval Command (SNC) was held at the Station Parade Ground, Venduruthy inside Naval Base, Kochi to commemorate the Nation's 71st Republic Day. The parade was reviewed by Vice Admiral AK Chawla, PVSM,AVSM, NM, VSM, ADC, Flag Officer Commanding-in-Chief (FOC-in-C), Southern Naval Command (SNC) and comprised 24 platoons, including six armed platoons. The President's Colour awarded to the Southern Naval Command was also paraded on the occasion, accompanied by a 50 men Guard of Honour. Prior arriving on Parade, the Commander-in-Chief paid floral tributes to the martyrs by laying a wreath at the War Memorial. All naval ships in harbour at Kochi were also 'Dressed Overall', with various signal flags displayed from their masthead to both stem and stern (throughout from forward to aft) to mark the festive occasion.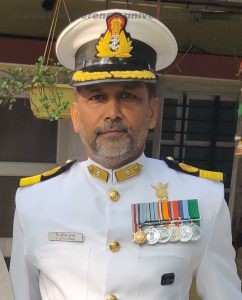 The Parade was commanded by Commander SS Bose. The Parade was accompanied by the SNC band playing stirring martial music. The Flag Officer Commanding-in-Chief, while addressing the parade, spoke of the significance of the Republic Day for the Nation and the role of armed forces in nation building. He stressed on the fact that the security situation in and around our country remains uncertain and with our adversaries making constant endeavours to undermine our integrity and development, maintaining the operational readiness of our ships and aircraft is of paramount importance.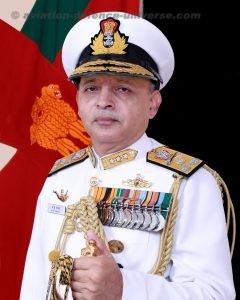 The award of distinguished service medals to 04 officers of the Southern Naval Command by the President of India was also announced by the Government on the occasion of Republic day, which included Param Vishisht Seva Medal (PVSM) to Vice Admiral AK Chawla,FOC-in-C (South) Vishisht Seva Medal (VSM) to Rear Admiral Tarun Sobti, Deputy Commandant of Indian Naval Academy (INA), at Ezhimala, Commodore Ajith V Kumar, Chief Controller of Aeronautical Quality Assurance and Commodore RR Ayyar, Group Commander NCC, Ernakulam.