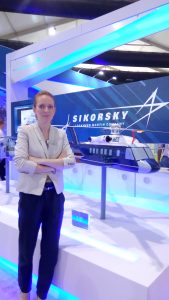 By Sangeeta Saxena
Goa. 09 May, 2016. "We are working diligently with Contract Negotiation Committee to complete the deal this year. We are confident that very soon S-70B Seahawk will be added to Indian Navy fleet. Sikorsky has a rich history working  in India  and we fulfil Igor Sikorsky's dream and vision for our product," said Nathalie Previte, Vice President, Sales & Marketing, Sikorsky Commercial Systems & Services. She was speaking exclusively to ADU, while in India recently.
She stressed that S-70B meets all the laid down Service Qualitative Requirements (SQRs) and is the most ideal platform for an emerging blue water navy like the Indian Navy. Speculation is that the Sikorsky deal is estimated to be around $1 billion-plus for 16 helicopters but there is no official word yet on prices from either side. Sikorsky makes S-70B helicopters in Stratford, Connecticut.
The Indian Navy's  S-70B will be packed with a highly powerful sonar 360-degree-search radar. It will also be  equipped with advanced air-to-surface torpedoes and missiles for both anti-surface and anti-marine warfare. This unique model provides more functionality as it has foldable blades and tail, which allows it to be easily stored in the warship warehouses.
Hopefully Sikorsky Seahawks will start arriving from 2019. Weapons and sensors will be extra – possibly from other companies but Sikorsky will integrate them in accordance with the contract. They will have capability to deal with both underwater (ASuW or Anti Submarine Warfare) and ASW (Anti Surface – Ship – Warfare). Though not confirmed but there are rumours of radars and weapons will be from US majors Raytheon and Telephonics and  French company Thales. The twin  engine chopper will have GE engines, is also the talk of the town.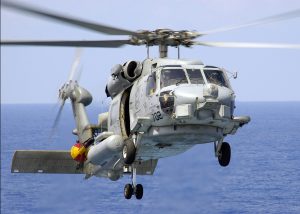 And Sikorsky's march in India does not stop here. There is a second proposal under classification NMRH (Naval Multi Role Helicopter) for 123 choppers to meet the pending and growing requirements of the Indian Navy.
Responding to a question on changes if any post  the company's acquisition by Lockheed Martin she said, "strategy per se there has been no change since Sikorsky has become a LM company. Lockheed brings an increase of resources and knowledge. We have access to LM capability and have been working very closely with it in the past."
Sikorsky has been very bullish in Asia. Nathalie added that the company is looking to develop logistic centres in the region as Asia has over 500 Sikorsky aircraft .And in Asia India is a big market and its mission is to partner to strengthen India's Defence and Internal Security capabilities while simultaneously developing India's aerospace industry and foray into the commercial market. Her optimism on Make -in-India was evident from the statement, "I don't see any limitations of  Make in India in Defence. Sikorsky has the oldest JV with Tatas and will continue being a part of the Make-in-India process. Today all policies in India are moving in the right direction," she said.
Nathalie ended with a positive note by saying that India is showing the way to other countries by stalling procurement process and bearing losses but importance of compliance issues, ethics and laws is supreme.