By Suresh Somu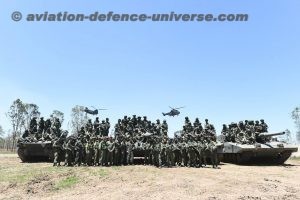 Singapore. 14 October 2017. Taking into consideration Singapore's space constraints for military exercises, the Singapore Armed Forces (SAF) has continued to identify cost-effective overseas training areas to maintain and further develop the SAF's capabilities as a full-spectrum force.
In recent years, the SAF has steadily expanded its overseas training areas to include those in India, Germany and South Africa. The scale and scope of the SAF's military training in the more familiar overseas training territories of Australia, New Zealand and the United States have also been enlarged.
Most of the SAF's military training in its main overseas training areas in Australia, Thailand, Taiwan, South Africa and the US tends to be unilateral conventional large-scale exercises of an integrated nature that involves various arms and units of the SAF to cost-effectively train in niche areas such as special operations, littoral operations, Undersea Warfare (USW) and Search and Rescue (SAR).
As costly as it may be in terms of overseas exercise, the SAF is seriously mindful that, even during peace times, it is a necessity to continuously train the soldiers in a realistic and rigorous environment and deploy the state of art technologies.
Amongst several overseas exercises the SAF partakes, Exercise Wallaby in Australia is the largest. To put into perspective, the exercise ground, in Australia's eastern coast at Rockhampton, covers an area of four times the size of Singapore.  Critically, it is a realistic terrain to put the SAF vehicles to the limit.
The deployment of overseas troops started as early as the 90s, lasting for three weeks and has grown in leaps and bounds in terms of strength and duration. Today, it involves an astounding figure of almost 4,000 SAF personnel putting their capabilities into test for three months.
"A unique opportunity that's not presented anywhere else in the world" says Exercise director Brigadier General (BG) Mark Tan. And plans are underway to expand the training ground beyond the current state. This time, it will be at Shoalwater Bay, in Queensland, which has the capacity to hold more troops stretching longer periods of time.
Given the high level of complexity involved in each training, it further promotes joint training which is paramount to SAF capabilities. What's considered eye opening is a stunning joint show of one technique of large-scale troop transportation demonstrated, during the recent Exercise Wallaby, during first week of October, a deployment that involved up to eight helicopters flying in formation that has the capability of transporting a maximum of 300 troops all at once.
BG Tan adds: "The space here allows us to train both with helicopters and ships in a very large and complex exercise, which allows us to advance our capabilities and train our soldiers in a realistic and tough environment. As the SAF has progressed over the years, fighting jointly is something that's very important to our capabilities."
Queensland's Shoalwater Bay is most strategic, in the the longer-term, for the SAF. Previous plans would have seen up to 14,000 SAF personnel being able to train for 18 weeks a year, in an area 10 times the size of Singapore, up from the current six. The Singapore government has committed to investing S$2.5 billion over 25 years to upgrade facilities there.
Singapore Defence Minister Ng Eng Hen earlier said that the building of advanced training facilities, due to begin in 2019, will benefit both the Australian Defence Force and the SAF and some of these activities will even be beneficial for the people of Queensland.
For the record, both Singapore and Australia are part of the Five Power Defence Agreements and ASEAN Defence Ministers' Meeting Plus, and forces regularly interact through professional exchanges and multilateral exercises like Exercise Pitch Black. Aside from Pearce in Western Australia, the RSAF also conducts helicopter training at the RAAF's Oakey Army Aviation Centre, fighter training at Darwin and Amberley in Queensland, and air grading at Tamworth in New South Wales.