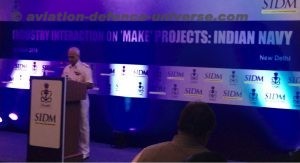 New Delhi , 26 April 2018. 
By Brig Vijay Atray
With a vision to 'Catalyse the Indian defence industry to effectively contribute to India's national security and become a trustworthy global partner', Society of Indian Defence Manufacturers (SIDM) provides an array of services to its members including Policy & Progress Advocacy, Policy & Market Research, Access to Emerging Technologies & New Opportunities, Promotes Indigenisation & Innovation, Export Promotion and Education & Skill Development. With this aim in mind SIDM organised Industry Interaction on 'Make " Projects of Indian Navy .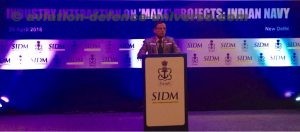 Admiral R Swaminathan, NM. , ACOM (Modernisation) Indian Navy remarked in his opening address"Indian Navy has always been at the forefront when it comes to indigenization and with the recent policy changes, it has only become easier to progress the cause further".He stated that the Indian Navy's requirements are drawn from its self-reliance needs which in turn emanate from the capability requirements. The Indian Navy has a two pronged approach of ab initio development and technology development with a bucket list including Gas Turbine Generators, High End Electronics and Artificial Intelligence. These provide ample opportunities both to the big industries and the MSMEs. He mentioned that the Indian Navy has already commenced "Make" cases as well as the cases in the Technology Development Fund.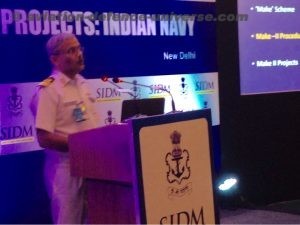 Lt Gen Subrata Saha, PVSM, UYSM, YSM, VSM** (Retd), Director General, Society of Indian Defence Manufacturers ( SIDM) mentioned in his address "The Draft Defence Production Policy 2018 focuses on self-reliance, encourages innovation by earmarking funds for Hackathons, and promotes MSME participation." He added that the idea of bringing the Draft Defence Production Policy post Defence Procurement Policy (DPP) 2016 clearly supports the forward looking provisions of DPP and various Indian industries already have projects at concept of readiness stage under the MAKE II category. This will only grow with the interest being expressed by the industry in such projects. He also mentioned that SIDM has initiated discussions to help develop a methodology for determining price index for technological & performance parameters for Defence and Aerospace projects .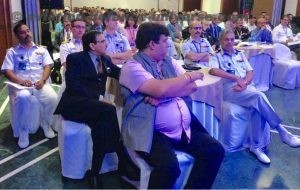 Officers from various Directorates of Indian Navy presented details of all 24" MAKE "projects that are in various stages and thereafter respective project officers interacted one on one with the industry representatives. More than 125 participants comprising officers from the three Services, industry representatives and Headquarter of Integrated Defence Staff attended the interaction.
A good initiative by SIDM and furtherance of Make in India Policy by the Indian Navy.