In a rare search and retrieval mission code name 'Daredevils' the ITBP mountaineers had searched and retrieved 7 dead bodies near Nanda Devi East in Pithoragarh after a 500 hrs operation in high altitude
New Delhi. S S Deswal, DG ITBP felicitated the 11 member mountaineers team of the Force which had successfully searched and retrieved the dead bodies of the seven mountaineers from an altitude of 20000 ft. Senior officers of the Force were present on the occasion.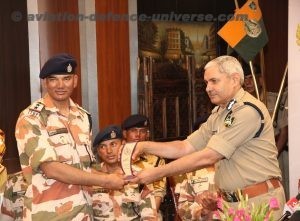 The 11 members' ITBP mountaineering search team was led by Ratan Singh Sonal, 2nd In Command. The other members were Anoop Negi, Dy Commandant, Insp/GD Hemant Goswami, HC/GD Devendra Singh, HC/GD Kalam Singh, CT/GD Kapil Dev, CT/GD Pradeep Panwar, CT/GD Bharat Lal, CT/GD Jaiprakash Singh, CT/GD Sanjay Singh, CT/GD Surendra Singh and administrative support staff- CT/Medics Dheerendra Pratap, CT/Cook Devendra Singh, CT/Cook Manjeet Singh and HC/Tele Bhagyashali Meena. The operation was conducted under direct supervision of Sh APS Nimbadia, DIG SHQ ITBP Bareilly.
Deswal congratulated the team and said that the Force is proud of them. Speaking to the media on the occasion, he said that the operation was conducted in most difficult, inhospitable and trying conditions. He said that the Force is in a process to raise 5 high altitude rescue teams comprising of mountaineers of the force in 5 states- J&K, Himachal Pradesh, Uttarakhand, Sikkim and Arunachal Pradesh. He said that the Force is the first responder in such situations in the Himalayas.
Features of the 'Daredevils'
One of the difficult most retrieval operations in the world at such an altitude and typical terrain.
Best effort to bring back the bodies with dignity and honour.
Nationals of 3 foreign countries and one from India lost their lives during this expedition. Bringing the bodies back and sending to their respective countries/ homes will surely be a great gesture of the country.
ITBP team has been taking highest possible risk which indeed is a unique effort by the Force.
Gallant act by ITBP mountaineers of taking the bodies down is second to none.
Will always be remembered as a milestone in the history of mountaineering search and retrieval missions as it is a rare of the rarest operation of its kind.
12 mountaineers on their attempt to climb Mount Nanda Devi East were on an expedition in Pithoragarh District since 13 May, 2019 onwards.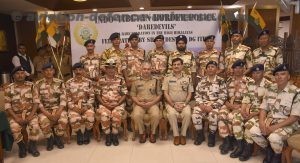 On 30 May, 2019, the District Administration Pithoragarh got a SOS call. ITBP was requested to search for 8 mountaineers who were reported missing since 26 May, 2019 while attempting a summit on an unnamed peak near Nanda Devi East.
In the rescue efforts thereon, remaining 4 mountaineers (British) were airlifted from Nanda Devi base camp on 2 June, 2019 who were part of the 12 member team and been taken to 14th Battalion ITBP. They were Zachary Quain, Ian Wade, Kate Armstrong and Mark Thomas.
Few bodies were seen by aerial recce by Indian Air Force on 3 June, 2019. Heli operations were attempted with the help of Indian Air Force on 5 June, but due to terrain, weather and wind conditions, same was not successful.
After this, ITBP with the help of District Administration, Pithoragarh started the search operation from 14 June onwards by establishing base camps towards the incident site. S S Deswal, DG ITBP briefed the ITBP team in Pithoragarh before launch of this high risk mission on 11 June, 2019.
The ITBP had launched search operation on 14 June, 2019 from Pithoragarh to search these missing mountaineers in which 4 were British, 2 were Americans, and 1 each from Australia and India.
Names of missing 8 mountaineers were- Martin Moran- Expedition Leader, John Mclaren, Rupert Whewell and Richard Payne (All from UK), Anthony Sudekum and Ronald Beimel (From the US), Ruth McCance from Australia, and Chetan Pandey of the Indian Mountaineering Foundation- Indian Liason Officer.
After acclimatization, the ITBP mountaineers reached to the site through technical climbing as the terrain conditions were very difficult due to steep gradient, snow accumulation and wind conditions.
In this very difficult search operation in high Himalayas, the ITBP team retrieved seven dead bodies on 23/06/2019. The team tried to search for 8th body also but due to terrain, altitude and weather limitations, the same was not been found.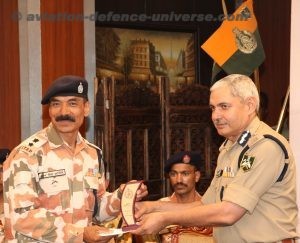 These bodies were traced at an altitude of appx 19000 feet in the bowl below the peak they were attempting to climb. Firstly, the recovered dead bodies have been retrieved and taken to a nearby safe site on 22June, 2019. It was tried that the bodies can be airlifted from this place, but air lifting efforts again failed due to the attitude limitations.
After air recce on 29 and 30 June, 2019 with Indian Air Force Choppers, it was decided to take the bodies to a lower altitude first by ITBP mountaineers manually so that they can be air lifted from here.
On 1 July, 2019, ITBP mountaineers with more than 11 hours of efforts, managed to take 4 bodies to the highest point of the ridge (18,900 ft) from where they could be taken further to Base Camp 1 Helipad (15,250 ft).
Remaining 3 bodies were carried the next day to the same point first.
All bodies were taken to Base Camp 1 temporary Helipad on the evening of 2/7/2019. In this effort, ascending and descending was highly technical and risky but executed successfully by the mountaineers. This was the most difficult part of the operation.
Bodies were further airlifted to Munsyari and further to Pithoragarh on 3 July with the help of Indian Air Force.
The operation took time as ITBP mountaineers took all precautions with best mountaineering skills and tried to take utmost care while carrying the bodies with due dignity and honour to the dead.
ITBP's mission- 'Daredevils' ended after dead bodies handed over to the District Administration Pithoragarh today at 1210 Hrs.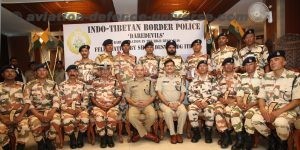 ITBP has been deployed primarily on India China border since its inception in 1962 where its jawans remain deployed in harsh weather, terrain and climatic conditions. The Force is known as the first responder in disasters in the Himalayas. ITBP had saved more than 33 thousand people from extreme danger in Uttarakhand deluge in 2013 using their mountaineering skills.