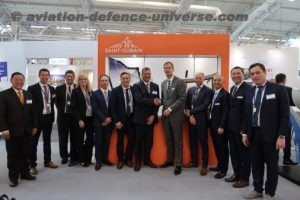 Paris. 21 June 2019. Satair, a world leader in the commercial aerospace aftermarket and Saint-Gobain Sully, expand to a global partnership and renew their distribution agreement across the Asia-Pacific region, including China. The expanded agreement covers sales of cabin windows worldwide – an expansion of the previous agreement that covered sales and exchange of Airbus and ATR cockpit windows in Asia-Pacific and China.
The agreement is a result of the fruitful partnership between Satair and Saint-Gobain Sully since 2015 and signifies both companies' extensive dedication to support customers' requirements.
"We are pleased to expand our strong business relationship with Saint-Gobain Sully", said Bart Reijnen, Chief Executive Officer for Satair. "The new agreement improves our ability to keep in tune with market needs and ensure stock availability closer to the customers."
Saint-Gobain Sully, a subsidiary of Saint-Gobain, is a leading manufacturer of high quality and high performance transparencies for commercial aircraft, from cockpit windshields to cabin windows.
Scott Huth, General Manager, Saint-Gobain Aerospace added; "In recent years we have seen an increased customer demand worldwide, and this new agreement solidifies our commitment to meet these demands. We are pleased to expand our agreement with Satair, who has strong global distribution capabilities, and we look forward to continuing to grow our partnership."