Paris. 21 June 2019. At the Paris Air Show, Le Bourget, Satair and Crane Aerospace & Electronics signed an agreement covering the distribution of Crane Aerospace & Electronics' Tyre Pressure Indicating System (TPIS) for the A320NEO and A330NEO aircraft families.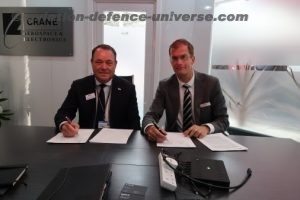 Using Crane Aerospace & Electronics' SmartStem® passive, wireless technology, these TPIS systems will improve operator maintenance cost by reducing the time required for daily tire pressure checks while delivering a significant improvement to reliability and accuracy and helping ensure safe operations in all conditions. Certified as standard line fit on all A330NEOs earlier this year, a similar system is planned for certification on the A320NEO in 2020. In addition, both systems will be available for retrofit to lower the maintenance cost on existing aircraft.
The agreement marks an evolution in the relationship between Satair and Crane Aerospace & Electronics, who signed their first agreement in 2015 covering the distribution of a new Landing Gear Control Interface Unit for the A320 program family.
Bart Reijnen, Chief Executive Officer, Satair commented: "We are very pleased to continue and expand our relationship with Crane Aerospace & Electronics and to bring this innovative product into our portfolio and to the market."
Signing for Crane Aerospace & Electronics, Gregg Herman, VP Sales and Marketing added: "Satair has proven to be a valuable partner and this agreement will provide customers worldwide with great support through Satair's extensive distribution capabilities and expertise."
The contract is effective from July 1st, 2019 and is exclusive worldwide.